Are you dreaming of owning a successful business, of being your own boss?
You can live that dream knowing Poolwerx are there to help you all the way. You can start small and grow big servicing residential and commercial pool and spa clients. Partner with a long standing and proven franchise model with growth and profit potential in the growing home services sector. We put people first.
Start small and grow big
Opportunities range from entry-level, mobile service vans in new territories to investing in established, high turn-over operations with multiple vans and retail outlets servicing several areas.
● Investment for a new franchise starts at $89,0000 + GST plus a Van.
● Partner with an award winning, well recognised, and respected brand with 30 years of experience.
● Exclusive territories.
● Ongoing marketing and operational support.
● Financing options with major banks.
● Supply chain support: including access to world-class products and equipment.
There is no downtime with a Poolwerx franchise.
All franchisees benefit from multiple income streams keeping you busy summer and winter:
● Retail and mobile chemical and equipment sales.
● Domestic and commercial pool servicing.
● Spa and lifestyle product sales.
● Equipment installations and repairs.
Option 1 "New to Industry"
Start from scratch in a new territory. Mobile Van opportunity from $89K +GST + Van (approx. $35K). There are some amazing inclusions to help you hit the ground running:
● $10,000 for local marketing
● Van wrap and fit-out (valued at approx. $7K)
● 3-weeks training at Brisbane Pool School (& we pay for your flights and accommodation).
● Complimentary tickets/airfares to your first annual Poolwerx conference (Fiji 2023!)
● You get a laptop, mobile phone, and digital water testing equipment.
● Product and supplies starter kit….and more!
Option 2 "Re-sale"
Buy one of our existing successful franchises. The cost varies depending on sales revenue and profitability. You walk into an established business with established clients. We set you up for success with complete training and ongoing support.
Option 3 "Convert your existing pool/spa business into a Poolwerx operation"
For people already in the industry, joining Poolwerx gives you the opportunity to partner with a proven and people centric business model with massive growth potential, buying power, and business, operational and marketing support.
We will give you step-by-step guidance and support as you convert your existing pool retail store(s) and / or mobile pool servicing vehicle(s) within a franchise territory under the award winning Poolwerx brand and system.
Our Values
● People first – always
● Do the right thing
● Find the better way
● Dare to succeed.
Why us
Brand Strength: Poolwerx is Australasia's largest and best-known pool and spa maintenance network. The Poolwerx brand is a valuable asset that customers recognise and trust.
● 30+ years of experience and lots of happy franchisees and clients.
● 137+ retail stores.
● 640+ service vans across Australia and New Zealand.
● Australian, New Zealand and US - across 14 states.
The pool and spa industry has had impressive growth (even during the GFC and Covid). We are always looking for dynamic and committed people to join our award-winning franchise network.
At Poolwerx, we have a range of pool franchise opportunities to suit your level of investment.
How do we support you?
Innovation and continual improvement are part of our core values. After 30+ years we know our systems and business model work for both new and existing franchisees and their customers. There is real value in our brand strength, national marketing strategy, training programs, operational support, excellent products and customer focus.
● Comprehensive Training: No experience, no problem. All our new Franchisees will do 3-weeks training at our purpose built "Pool School". We'll even pay for your travel and accommodation! Bonus: Gain a Certificate III in Pool and Spa Maintenance.
● Marketing support: We help you with local marketing plus we run national and regional marketing campaigns and promotions to support all our franchisees as a going concern.
● Technology and tools: We set you up with technology, software, and systems. We provide new franchisees with a laptop, mobile phone and digital water testing equipment.
● Community of Support: Join our network of experienced franchisees and Poolwerx experts, ready to guide you every step of the way, including one-on-one mentoring.
Featured opportunities
13 hours ago
Poolwerx - for healthy pool and spa people
Mindarie, Butler, in Wanneroo | Perth - Greater
$495,000 + SAV
Franchise Resale
This established Northern Perth suburban franchise includes: > Exclusive territory servicing Mindarie and Butler. > 1 x Retail outlet in Butler. > 2 x Mobile service vans.
Cleaning & Maintenance > Garden, pool & outdoor maintenance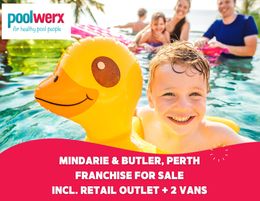 13 hours ago
Poolwerx - for healthy pool and spa people
Karratha Pilbara, Geraldton Mid West & Kalgoolie | Regional WA
$89,000
Franchise New
Poolwerx has three (3) new mobile franchise opportunities in Regional WA: Karratha in the Pilbara, Geraldton in Mid West WA and Kalgoolie in the Goldfields-Esperance. $89K +GST PLUS Van*.
Cleaning & Maintenance > Garden, pool & outdoor maintenance