As our population is rapidly ageing, the physically and cognitively challenged are also facing more isolation than ever before.
We at Driving Miss Daisy empower our clients, young or old, to live more independent lives while providing a social connection to the community.
Way back in 2008, Driving Miss Daisy founder Melanie Harper started driving her Aunt Trish to appointments in Havelock North, New Zealand. Trish no longer drove herself and she enjoyed the companionship of Melanie driving her to her appointments.
Having built a flourishing brand in New Zealand with more than 250 vehicles assisting hundreds of thousands of customers each year, and fast on the way to becoming an icon in the UK, Driving Miss Daisy has commenced operating in Australia under the direction of two highly respected franchise professionals in Stanley Zets and Alan Branch.
Our companion driving service offers passengers safe, friendly assistance for their daily needs – pick up and return. Peace of mind every time.
At the core of our company, we're dedicated to providing our clients with a safe, friendly and reliable companion driving service.
INTEGRITY
To be open, honest and trustworthy, acting with the utmost integrity at all times.
EMPATHY
To provide a caring, considerate and respectful environment, compassionate to all.
PROFESSIONALISM
To be reliable, smart, accurate and appealing in every way.
SAFETY
The care and safety of everyone will be paramount around everything we do.
FUN
To brighten up the day, by always incorporating laughter, cheerfulness, enthusiasm and positivity.
Whether it's a trip to the doctor, going to the hairdresser, a drive to the beach, helping with the shopping or even a pet to the vet, Driving Miss Daisy is there – with love and care.
Why us
Driving Miss Daisy is a Unique Social Enterprise that offers inter alia:
Comfortable Income
Good return on investment
Low entry cost
Low overheads
Work from home
Flexible working hours
Opportunity to grow
Build an asset you can sell
Help your community
Love your job
Each of our Daisy Franchisees have the desire to make a difference in their community while building their own business.
Our franchises are an opportunity for people to own and operate a small business within the community they live.
Driving Miss Daisy provides guidance and support through our franchise system.
Our core focus is helping people to enjoy life to the full.
We support clients in their day to day activities and encourage them to get out and about wherever and whenever possible.
We aim to make a positive difference to our client's lives and it is essential that our Daisy Franchisees share this vision.
Our Daisy Franchisees are passionate about building their businesses whilst enjoying the rewards of offering a valued service to the local community.
We share our business model and vision with you.
Each Daisy Franchisee is supported and guided through the established business systems.

As your franchisor, we're there for you; just as you're there for your clients.

As a Driving Miss Daisy Franchisee, you will be providing a life-changing service. The demand for our service continues to grow along with the special needs of children and the ageing population.

The Package
The Initial Franchise Fee for a NEW franchise is from $25,000 + GST (plus your Daisy vehicle). The complete details available on application. Each vehicle will have the distinct Daisy decals and be customised for passenger comfort and enjoyment.
The initial franchise fee provides you with:
Our Franchise Training Program
Business support
An established international brand
Comprehensive business systems
Detailed marketing including tools, collateral and social media
Comprehensive training and operation manuals
Step by step business set up process
Well recognised and respected national brand
Mentorship
System and technology upgrades
Support with marketing material, software and research on new trends and benefits
Established quality and high standards of excellence
Full Police checks for all Daisy Franchisees and Drivers
Our franchisee training programme includes:
Operating and managing a Driving Miss Daisy franchise
Passenger services
Business Management
Driver Recruitment/Training
Health & Safety Systems
Sales and marketing tools
How to grow your business
Bookkeeping and accounting
Compliance and reporting
Your Next Steps:
Submit your expression of interest today to start your Driving Miss Daisy journey.
Featured opportunities
13 days ago
Driving Miss Daisy
New South Wales | Regional NSW
$26,000
Franchise New
Companion Driving franchise = love and care empathy and integrity, transport service to help elderly, children & disabled community enjoy independence. Great business, regular income while having fun
Personal Services > Aged Care & Retirement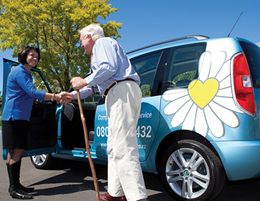 13 days ago
Driving Miss Daisy
New South Wales | Regional NSW
$26,000
Franchise New
Companion Driving franchise = love and care empathy and integrity, transport service to help elderly, children & disabled community enjoy independence. Great business, regular income while having fun
Health, Beauty & Fitness > Health & Medical