Be part of one of Australia's largest specialist Car Service, Brake & Trade Parts Franchise as part of Australian Automotive Distrubution Pty Ltd t/as ABS and enjoy:
Personal Job Satisfaction
You are the boss with the help of our support
Quick return on investment.
Excellent Cash flow and Profits
Buying power
Capital growth
Whether you have and existing independent automotive service business and want to become part of ABS Auto, or would like to build and ABS Auto franchise from scratch, please take the first step and contact us, to discuss this exciting opportunity.
Why us
ABS Auto is a group of Automotive Specialists starting out in 1981 as a single parts remanufacturing business in Fitzroy. By 1984 business had quickly bloomed to a point where operations, systems and the ABS brand had developed into a fully functional Franchise System.
By 1990 ABS Auto opened their first interstate stores in Tasmania, closely followed by Perth in 1994 and Adelaide 1996.
Today ABS Auto has grown to a total of 55 stores operating in every State and Territory across Australia.
ABS Auto have since re-established themselves in the market as a one stop shop for all your vehicle servicing needs ranging from minor, major and logbook services, brake and clutch, cooling system through to suspension and steering, clutch replacement and any other mechanical repairs or services that may be needed.
In May 2013 ABS Auto joined the Metcash Automotive Brands Group with household names like Autobarn and AutoPro. With the purchase in May, comes greater opportunity for growth and development to not only increase our nationwide footprint but to also become the leader in the Automotive Aftermarket Industry. Today Australian Automotive Distribution Pty Ltd trading as ABS is a fully fledged part of the group and continues to expand.
With years of experience and that personal touch we make sure you and your car always have a second home with us. The ABS Auto mission is to keep you and your family safe on the roads all year round.
At ABS Auto we believe success is all about systems System Components that drive the success of our Franchisees include:
Site Criteria (Access, Livery, Layout)
Site Analysis (Demographics, Traffic Flow, Visibility)
Personal Development (Train, Monitor, Feedback)
Brand Value (Recognition, Trust, Position)
What Drives the ABS Auto System
Information Flow (Computer IT, Benchmarking)
Planning (Ongoing Franchise Analysis)
Service (Customer focus, retention and promotion)
Quality (Setting Standards, Measurement of results, Feedback & improvement)
People (Collective Support and Commitment)
Marketing Programs:
Nationally Promoted Brand
National Warranty Program
Local Area Marketing Programs
National Media Programs & Support
Point of Sale Material
Web Site / Customer Booking and Feedback
Customer Retention Program
Co-operative Business links
Marketing Support:
Wheel Cutaway
Customer Service Systems and Standards
Livery Standards
Marketing Council Research & Training Industry Professional Support
ABS Franchise System Operations:
Specialised Service Equipment
ABS Auto Specialised Computer System
Accounting & Budget Support
Comparison Benchmarking Trade and Parts Data Base (Information & Quoting Systems)
Group Rates
Purchasing Rebates
Training:
Valve overhaul
Technical Training
Sales & Operational Training
Team Support and mentoring
Staff selection and Management
Property:
ABS Store
Site Analysis
Lease Advice & Negotiation
Featured opportunities
1 day ago
ABS Auto
P.O.A
Franchise Resale
Profitable, long established successful business in SE suburbs with sound revenue performance.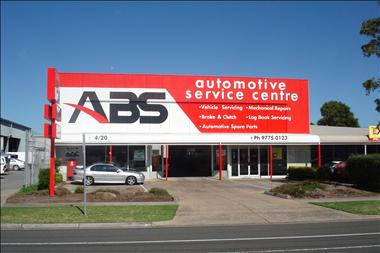 29 days ago
ABS Auto
P.O.A
Franchise Resale
Profitable, long established successful business located in North Eastern Victoria with sound revenue performance.