Summary
An opportunity that gives you flexible hours, massive earning potential and the chance to work on YOUR terms. If You qualify… a Jim's Mowing Franchise can show You… How to make a Six Figure Income
Location Details
Adelaide
We have many options for new franchises in parts of Adelaide that have more work than we can handle. We guarantee a minimum $ amount of work for each territory that has large client bases.
Marketing support
Everyone hates paper work, including us. That's why Jim's has a number of options to help you to do your bookwork and administration duties. The new APP allows you to take the office on the road with you, so that you don't have to come home to paper work. Rather you can put away your book work and have more time enjoying your life. The App also allows you to be more "efficiently and effectively". It was designed to help you become better organiser, and help with the book keeping, organisation and round management as well as customer management"
Training provided
The Jim's Training System is second-to-none, having been developed and continually improved over many years by some of the most respected leaders in the industry. It includes everything you need to know to run a successful business from day one. Our training program is designed for business readiness, then ongoing support. Before you commence operating your business, you will attend a 6 day training course in Melbourne, where you will meet Jim himself and cover all the basics of how to run a small business.
Skills
Why Jim's?
Obviously, this means different things to different people. We certainly have a great team with a lot of depth. Recently, our ability to help our franchisees deal with the changing OH&S certainly reflects this. But looking at it from a purely "nuts and bolts" analytical position, Jim's has two major strategic advantages, namely the cheaper cost of customer acquisition and size, and a focus on putting franchisee support above all other priorities.

Length of Agreement
This is what that many of us look at when getting into business. One way to do this, is to look at the revenue and allocate a week amount out of it. The other way is to look at a Split. A split represents excellent value for both buyer and seller. They allow you to split your business into two, and sell one of those halves. The amazing thing about this process, is that it allows you to turn the potential disadvantage "growth ceiling," into a fantastic opportunity for you to get back your original investment, or more through multiple splits.
About the Opportunity
Why Jim's?
Jim's has the cheapest cost of customer acquisition, which means that it cost us less to get our message through, and customers through the door. The Jim's brand, reputation and its awareness in the marketplace, means that many people call Jim's each year just based on awareness and reputation. This is a large strategic advantage as we do not have to pay large advertising costs to get that lead. By joining Jim's, you get to take advantage of the 25 years of marketing and branding that we have engaged in.
The other and most important success determinant resource is you. The Jim's system invests time and resources both at the State and National level. You receive a monthly contact call, where we gauge how you are going and what assistance we can provide you. We also have monthly group meetings and workshops, along with information and coaching newsletters. The goals of all these activities is to help you build the best business that you can. It is one thing to work hard, but true results come from direction on what to work on and when. Operating under correct knowledge.

Why pay fees?
Fees are an extremely important part of any franchise system, as they provide the critical infrastructure for you to succeed. Your fees pay for things like state advertising, the call centre, IT infrastructure, National and State offices etc. And with Jim's ethos of "putting franchisees first," this translates into a strong support and knowledge base, which provides you with the resources and capabilities to run a professional and effective business. Having said that, we are mindful that fees should always equal excellent value for money, otherwise what's the point of being in a franchise system?

How much does a Jim's business really cost?.
There is no question that there are cheaper mowing businesses out there. But what is the real $ difference i.e. how much more is it going to cost me to have a Jim's Mowing branded business?
Let's say that you purchase a business for 25K, with clients, rather than a business worth 10K (i.e Jims costs 15K more). If you borrowed this extra amount at 7% per annum, it would cost you an extra $22 per week (to have that Jimbo business). Now, have a look at the quality of the business you can buy for 10k.
Of course, this assumes that you sell your business at what you bought it at (25K). We would hope that our knowledge and support, and your effort, skill and knowledge etc. will continue to improve your business and you sell it for more (or do mini splits).

Year Business Established
1989
History
It might surprise you to learn that the bearded 'Jim' wearing a bucket (an Australian icon). Jim Penman not only really exists, but is still the Boss. In fact, all new Jimbos meet Jim. It might surprise you, just how unassuming Jim is and also how passionate he is about franchisees and their success. In fact he still gives out his mobile number, you can't get more hand on than that.

Awards
Gold Award for Excellence Franchisee Support 2009-2017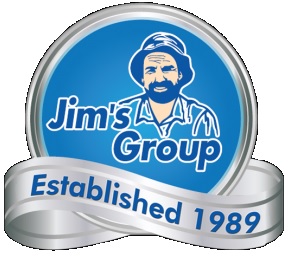 Find out more at the Jim's Group Franchise Information page