Extra monthly income.
After hours flexibility.
An initial value of cleaning contracts won for you.
And a proven system to win as many cleaning contracts as you can handle.
These are just some of the reasons, our franchisees chose an Urban Clean business. For many of them, an Urban Clean Service Franchise was an ideal first business that allowed them to keep their day time income while establishing their own business after hours.
My name is Damien Boehm and I founded Urban Clean on the principle that a cleaning service could provide a consistently positive customer experience every time, all the while providing a profitable business model for the people running and operating the business.
I started the business with a handful of clients and a desire to provide exceptional customer service. I worked during the day, quoted in my lunch breaks and cleaned at night. The result was not only a rapidly expanding business, but something truly life-changing when I experienced the financial security an after-hours office cleaning business provided for my family.
This same financial security can be had for your family.
Since franchising the business in 2014, over 70 franchisees have joined Urban Clean. Urban Clean has established a national footprint and cleans offices throughout Australia.
An Urban Clean business targets the profitable segment of the commercial cleaning market. The service is designed directly around this target market and uses industry only technology and systems to deliver on our customers' unique needs. Our sales system to secure new cleaning contracts is unique and second to none in the industry.
The commercial cleaning industry is huge. Billions of dollars get spent every year, to keep businesses clean.
A commercial cleaning business is a truly great way to earn flexible extra income after hours.
I invite you to explore this exciting opportunity, and hopefully look forward to meeting you in person in the near future.
Why us
Why Invest in an Urban Clean Business?
There is good reason franchise businesses have high success rates. A franchise business gives you much more confidence when starting a business as it has already developed proven successful systems. An independent business comes with a lot of uncertainty. A franchise on the other hand, gives you greater certainty knowing that if you put the hard work in, you get to reap the rewards.
Also if you've ever worked in the cleaning industry before as a subcontractor, you'll know that you have very little security over your work as the contract does not belong to you. On the other hand, as a franchisee you get exclusive rights over cleaning contracts.
The idea of a franchise is that for a much smaller investment than what was required to build the system, you get to take immediate advantage of -
ü Proven and developed marketing systems to win high value profitable new clients
ü Proven systems for client retention
ü Operational manuals
ü Name and brand recognition
ü Training and ongoing support
ü Access to valuable IT infrastructure
ü Group buying discounts
ü A network of other business owners
ü Opportunity to benefit from National opportunities otherwise not available to a local independent business
As a Cleaning Service Franchisee, we win you an initial $2,000 per month of Commercial Cleaning Contracts. Full our full entry opportunity we'll win an initial $5,000 per month of Cleaning Contracts.
Featured opportunities
12 hours ago
Urban Clean
Canberra | ACT
$31,700
Franchise New
Exclusive Opportunity to partner with Australia's Most Unique Commercial Cleaning Business. Profit with a steady contract based revenue stream and recurring income supporting your own Franchisees.
Cleaning & Maintenance > Cleaning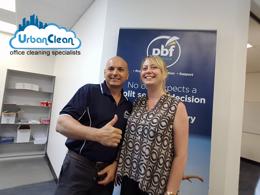 6 days ago
Urban Clean
Sunshine Coast | Sunshine Coast
$31,700
Franchise New
Marketing done for you, guaranteed franchise enquiries. Proven system with 100+ franchisees. Profit with a steady contract based revenue stream and recurring income.
Cleaning & Maintenance > Cleaning