The Local Guys - Services are a company who specialise in home & business services Australia wide! This includes:

• Electrical Test and Tag / Fire Equipment Testing
• Cleaning (Commercial & Domestic)
• Pest Control

With over 10 years of experience in the service field, we pride ourselves on providing a professional level of service for our clients.
This is extremely convenient for many businesses, as they can have all of these at The Local Guys, we have a streamlined and efficient process that has been developed so that all of our clients that we service have minimal disruption to their day to day operations, allowing us to provide a much faster and effective service than any other service business in Australia.

At the Local Guys, we are committed to giving back to the community. This is why we donate $5 from every job completed to World Vision Australia. This will help children in the Pilbara and Kimberly regions receive the early childhood care that they require.

This is something we are very proud of and look forward to seeing our relationship with World Vision Australia continue to strengthen and grow!
Why us
Becoming a Local Guys Franchise Partner will allow you to create a more flexible and balanced lifestyle. You are your own boss and you can work from home when you are not physically out at jobs.
You will be provided and with all the equipment that will enable you to get up and running, including personal business cards, marketing materials & full sign writing on your vehicle, plus any of the equipment required to perform the work in whichever division you choose.
On top of all of this, included in the initial fee, is all of the training that you require as well. This course will give you all the tools and information you need to understand and operate your business to ensure success in your new business.
You will also spend time at our support centre learning marketing, up sales, business training & where you will learn about many facets of the business. This includes how to use our CRM software system, how to run your business in Quickbooks/Xero, how to get new clients and much more. Once completing training at the Support Centre, you do on the job training performing jobs with one of our experienced franchise partners. They will take you out with them to all of their jobs, where you will see a wide variety of businesses and how we conduct ourselves at each of them. This will allow you to become extremely confident out in the field.
With all of this training, you will be ready and assured that you can go out on your own and start your business with confidence!
The Local Guys also provide a guaranteed income of $50,000. This will give you peace of mind that when you start out, you know you will be making money from the get go.
You are not required to have any prior experience. We will teach you everything there is to know!
Featured opportunities
6 days ago
The Local Guys – Home & Business Services
Perth - Greater
$44,950
Franchise New
Test & Tag Electrical Service franchise where YOU get paid WELL for YOUR efforts? Your income for the first year is $50,000 minimum! $44,900 + gst + vehicle. No electrical experience required!
Commercial Services > Safety & Security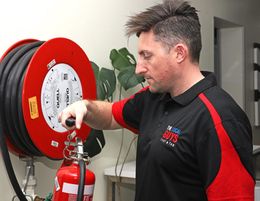 6 days ago
The Local Guys – Home & Business Services
Sydney - Greater
$54,950
Franchise New
Are you are someone with a BIG VISION? Are you a leader? If so, let's talk! We are looking for partners to work as an Electrical Test and Tag Master Franchise Partner in Sydney & Newcastle.
Cleaning & Maintenance > Handymen & Home services