An Australian Favourite
As Australia and New Zealand's leading specialty cake and dessert franchise system, The Cheesecake Shop is synonymous with immaculately presented and delicious cakes baked fresh on premises. Established in 1991, The Cheesecake Shop has developed into one of Australia's sweetest brands, selling more than 4 million cakes each year.
With an award winning franchise system, our comprehensive training program and straightforward recipes and procedures make it easy for franchisees to be successful. Furthermore, franchisees of The Cheesecake Shop can take advantage of the following benefits:
Ease of Store Operation
Strong Consumer Awareness and Preference
Low Staff Requirements
Baked on Premises
Enquire about your new franchise today, and see why The Cheesecake Shop is one of the most successful franchise systems around.
Why us
Success is a Piece of Cake
A two time winner of the Franchise Council of Australia's Franchisor of The Year, The Cheesecake Shop's proven franchise system is your key to small business success.
Founded by brothers Warwick and Robert Konopacki in 1991, The Cheesecake Shop has grown into a network of over 220 stores across Australia, New Zealand, Europe and the United Kingdom. Recognised for its consistency of quality and care taken by baking in store, The Cheesecake Shop has achieved remarkably high brand awareness among consumers.
Our strength resides in how simple it is to operate a franchise. In addition to the comprehensive four-week training course comprising of both theoretical and practical components, franchisees receive ongoing state support from a skilled team of franchise experts.
Our retail outlets are also supported by United Network Suppliers (UNS), an ingredients supply operation that together with our online systems assist franchisees with organised production and cost-effective ingredient ordering. The Cheesecake Shop's high average customer spend means franchisees also benefit from a business that can operate with as few as three full time staff.
The Cheesecake Shop believes in being the sweetest store in town and our focus is to help franchisees achieve this status in their store.
Testimonials:
"I was looking for a lifestyle change so I wanted an easy business to run. Operating a Cheesecake Shop really is a piece of cake! There are very few staff so you don't have too many management hassles, only a handful of suppliers and the recipes are so straight forward you don't need to be a baker or a pastry chef to do them." - Christine McMahon - Franchisee, Southport QLD
"It's been a great little business; I've made lots of money. I'm only sorry I didn't buy my shop 10 years earlier." - Tom & Enid Finley - Franchisee, Rockingham WA
"We were looking for a change of lifestyle, looking for more interaction with people. The shop in which Pooja (our daughter) worked was offered to us for sale, but when we did our homework the TCS store looked a more attractive option. We are very happy in our new business and just love the compliments we get from our customers." - Purnima and Vinod Tailor - Franchisees, Bull Creek WA
Featured opportunities
13 hours ago
The Cheesecake Shop
Sydney - Greater, Guildford West NSW 2161
$345,500 (Negotiable) + SAV
Franchise Resale
This well performed The Cheesecake Shop has been trading for 25 years. The resiliency of the business has been confirmed during Covid with double digit sales growth in the early part of FY 2020/21.
Food & Drink > Takeaway & Casual Dining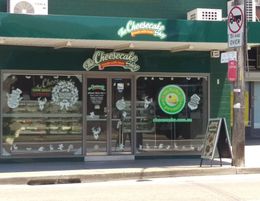 13 hours ago
The Cheesecake Shop
Regional NSW, Tweed Heads NSW 2485
$390,500 (Negotiable) + SAV
Franchise Resale
This steady, well performed The Cheesecake Shop franchise is ideal for the family looking to work together and enjoy the lifestyle of the southern Gold Coast.
Food & Drink > Takeaway & Casual Dining