Signarama - A Journey to Success
Signarama begun in 1986 when father and son team Roy and Ray Titus opened a store in Farmingdale, New York. After the store showed promising signs of success, they decided to open a store in North Palm Beach, Florida. In 1987, Signarama took a bold new step and began franchising since becoming the prominent force in the sign industry. Ray Titus (the son) still holds the position as the CEO of Signarama and one of his very first employees, Jim Tatem, is the company president.
Signarama's success skyrocketed in both Australia and Internationally being named the #1 Sign Franchise and ranked #74 for all franchises in the 2015 Franchise 500.
For almost 20 years Signarama has been servicing the Australian market with exponential growth we have grown to over 100 stores nationally. Signarama Australia is set to continue its growth and provide local businesses throughout Australia a true partner in helping them grow and be seen. Signarama presents a real opportunity to join a dynamic and thriving industry in the Australian sector.
Why us
We've spent 30 years developing our sign franchise model and have grown it to become the world's largest sign company.
The Advantages of Joining Signarama:
Brand Awareness – we are Australia's only true national sign company. With more than 100 stores from Cairns to Hobart and Sydney to Perth (and most places in-between), no other sign company has the recognition or reach that we do.
Buying Power – with our 100+ stores, we have negotiated better buying rates than the independent sign businesses. That's a key strength!
Networking – you can call on more than 850 Signarama franchisees from around the globe for advice, support and mentoring. With a dedicated portal site and questions can be answered and often resolved within minutes.
Ongoing Support – local Field Support that is unrivalled in the sign industry, to help you grow your business and profitability.
Marketing Programs – a comprehensive offline and digital marketing program incorporating E-Commerce strategies and solutions.
Why the Signage Industry?
Great margins – every product is custom-made, so that gross profit margins are excellent.
Customer Need – every business needs and uses signs every day. Businesses always need our services.
Low Inventory – buy it as you need it, you don't need to have your cash-flow tied up in inventory.
Business to Business – we're a Monday to Friday business, so you get to retain that flexibility and lifestyle. Because we're working primarily with other businesses, you're dealing with other professionals.
Low Staffing requirements
Featured opportunities
11 days ago
SIGNARAMA
$200,000
Franchise New
Every business needs signage! • Large out door lighted signs, • Real estate, Banners. • Vehicle wraps • Printing services • marketing martials Join in the successes of a growing market!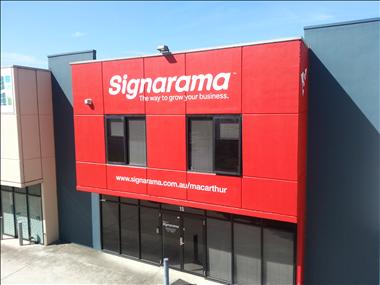 11 days ago
SIGNARAMA
$200,000
Franchise New
All businesses need signs! • Large out door lighted signs • Real estate signs • Banners • Vehicle wraps • Print services Join in the growing Signage Franchise!