WHAT DO I GET AS A FRANCHISEE?
A complete turnkey solution
Premium leasing & site selection
Store Design and Construction
Simply supply chain and ordering model
Training, onboarding and ongoing operational support
Product development and innovation
We've designed your Sharetea journey with our franchise partners in mind. We like to keep things simple – so we take care of most of it! We recognise the easier our processes and onboarding is, the more time you've got to focus on the development and success of your store. And with 25 years behind us, we've had time to refine the way work to deliver the success that we enjoy today.
Why us
WHY CHOOSE SHARE TEA?
We value YOU -
Strong Franchise Partners are the key our continued success, which is why we offer ongoing support and mentoring throughout your journey.
We're thirsty for success -
With over 1000 stores worldwide, and already over 57 Sharetea stores across Australia, we're ready to open more. As the one of the fastest growing tea franchisees we want to hear from you!
We're expanding the market -
With our desire to grow, we want to bring Sharetea to the hands of more and more people in Australia. We're expanding to exciting & new key locations all around the country and we're doing it NOW
Featured opportunities
22 days ago
Sharetea Australia
Brisbane - Greater, Brisbane City QLD 4000
P.O.A
Franchise New
Amazing centrally located opportunity located in Brisbane. Reliable franchise system, full support and quality product!
Food & Drink > Takeaway & Casual Dining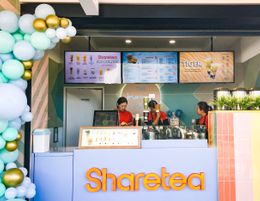 22 days ago
Sharetea Australia
Sydney - Greater, Marsden Park NSW 2765
P.O.A
Franchise New
Opportunity to join an industry leading international brand with a brand new Sharetea bubble tea franchise in Bonnyrigg
Food & Drink > Takeaway & Casual Dining