Pristine Water Systems Australia (PWSA) is proudly Australian owned and operated with its head office in Arundel, Gold Coast (QLD). PWSA has been franchising since 2003 with a network of successful franchisees and is steadily and strategically expanding across Australia.
We are the market leader in Water Tank Cleaning, with our unique QuadClean™ process which is unparalleled in cleaning, treating and sanitising commercial and domestic water tanks. PWSA's network of trained professionals provide a high-quality service and are passionate about their customer's well-being, which results in franchisees having a successful and sustainable business by providing their customers with quality drinking water.
PWSA has developed a broad range of products and services, including:
• Water tank cleaning, sanitisation and filtration
• Whole of House filtration systems and UV Sterilization units
• Above and below sink filter systems
• Filter/Cartridge replacement
• Bore/Spear water correction
• Boat, caravan, RV and mobile home filtration systems
• Water coolers and chillers
• Domestic and Commercial applications
While the actual work involved in cleaning a Water Tank is very similar to cleaning a pool, it is the knowledge and equipment behind the processes that makes this a very unique type of business.
The Need of Clean Healthy Water
Water is taken for granted as large cities are supplied by massive dam systems. But for a large portion of Australians, their water supply derives from collection of rainwater that is stored, from local rivers or from ground water systems such as bore or spear pumps.
Nearly 11% of the Australian population live off Rainwater Tanks! That doesn't include the number of City (Town) properties where small rainwater tanks have been installed to service laundry's, toilets and for general household use such as in gardens.
Add to that the need for filtration and there's an endless market opportunity!
Why us
A Pristine Water Systems franchise provides you with the opportunity to become part of its strong, well established brand whilst still being your own boss! PWSA is at the forefront of water purification systems, with a strong focus on development of new technologies to treat and manage water quality.
Competition in the Water Tank Cleaning business is fairly limited to individual operators. PWSA is the only Water Tank Cleaning franchise system in Australia!
Supported by an expert team of water technicians, Pristine Water System franchises are the best in the business. There's cleaning tanks, and then there's Cleaning Tanks Pristine!
As a PWSA franchisee, you have access to a strong support network with on-going assistance for your business. Our franchise model offers you:
• A business providing a much-needed service with repeat customers
• A large exclusive territory
• Flexible working hours
• Access to the PWS QuadClean™ system and WaterCare® product
• Group purchasing power
• Professional operating systems, procedures and processes
• National 1300 call centre service
• Relatively low initial investment and low ongoing operating costs
• Established IP; brand, trademarks, copyrights and proven operating systems including signage, marks, logos, slogan and marketing items etc.
PWSA's trademarked QuadClean™ process for tank cleaning and water sanitisation can filter and remove contamination and significantly improve drinking water quality by removing harmful bacteria with minimal loss of precious water. QuadClean™ is suitable in most situations for the cleaning of rainwater tanks in domestic and commercial applications as well as many other applications associated with the sanitisation and treatment of stored water.
In addition to Tank Cleaning Services, PWSA also supplies and services a complete range of domestic, rural and commercial filtration products. From countertop and under sink household units or whole of house systems, through to ultraviolet (UV) and reverse osmosis (RO) units to suit any application.
PWSA are also able to supply and service a range of aeration units for use in farm dams, golf course lakes, and aquaculture systems.
When you join the PWSA team you receive all the advantages of being part of a tried, tested and proven system PLUS all the benefits of operating your own business by providing a service your customers need on an ongoing basis.
PWSA provides a comprehensive training program at its head office on the Gold Coast, which covers practical product and infield training, business management, sales techniques and business growth strategies.
You receive comprehensive operations manuals and training tools, as well as on-going support from our highly experienced and knowledgeable support team.
Featured opportunities
10 days ago
Pristine Water Systems Australia
Lockyer Valley. Scenic Rim | Regional QLD
$79,000
Franchise New
Millions of Australian properties rely on Water Tanks for daily water. Every one of these tanks needs regular cleaning/maintenance and Pristine Water Systems is the only solution.
Cleaning & Maintenance > Cleaning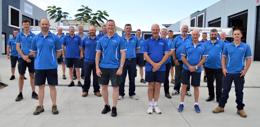 30 days ago
Pristine Water Systems Australia
Tamworth, Armidale, Gunnedah, Narrabri | Regional NSW
$115,000 (Negotiable) + SAV
Franchise Resale
Established franchise with existing customers, revenue stream and with vehicle included! Join the industry leaders with a trademarked system to clean & remove harmful bacteria in rain water tanks.
Cleaning & Maintenance > Handymen & Home services