What makes our cleaning franchise opportunity so SPECIAL?
The amazing opportunity to own and operate a cleaning business rights for Jim's Cleaning Group in your area. Choose your business interests in either a home and office cleaning franchise, carpet cleaning, car detailing, window and pressure cleaning, and blinds cleaning and repairs. Our franchise package are designed to help you hit the ground running – all training provided, on-going support and fully equipped with professional tools. Join the success of Jim's Cleaning Group today and find out what makes us the best cleaning franchise in Australia.
Award winning company
Yes, Jim's Cleaning Group is a national award winning company devoted on providing domestic and commercial cleaning to Australian homes and businesses. We have helped over 800 families to run their own successful business, providing all sorts of life the freedom to work their own hours, a sense of achievement, self-satisfaction and a smile upon their faces!
Ask us about the opportunity to own a cleaning business – we offer finance option, a safe and secure entry to a booming industry.
General Cleaning
Our general cleaning division offers professional general cleaning services to both domestic and commercial clients.
A RANGE OF SERVICES
At the Jim's Cleaning Group, general cleaning is definitely not just cleaning houses. Types of work commonly received include domestic cleaning (both occasional such as spring cleaning and regular services), oven cleaning, commercial and office cleaning, builders work such as new houses or display homes, and moving in and out cleans.
Pressure Cleaning
Jim's Pressure Cleaning offers professional standard high and low pressure cleaning.
POWERING UP
Jim's Pressure Cleaning owners spend every day having a blast! Created the most recently, the pressure cleaning division offers both high and low pressure cleaning on small and large jobs. Clients range from domestic home owners to large commercial spaces, builders, renovators and retail yards, driveways and car parks.
Blinds Cleaning
Jim's Blinds offers franchises in both blind cleaning & repairs and new blind sales.
SPECIALTY CHOICE
A Career in the blossoming blinds industry has something to suit many people. Jim's Blinds offers businesses in two specialised fields, the first being for the sale of new blinds and the second for expert cleaning, repair and installation on all types of blinds.
Window Cleaning
Our window cleaning franchisees are specialised in glass and window cleaning, offering a professional grade service to commercial, industrial and domestic clients.
Services might be provided once off for a special occasion or a spring clean, however with the right explanation most clients prefer to book regular window cleaning every 6-12 months.
Jim's Window Cleaning franchisees enjoy working both indoors and outdoors, in many types of locations.
Carpet Cleaning
Jim's Carpet Cleaning provides high quality carpet and upholstery cleaning services to many different types of customers.
Credibility & Care
Jim's Carpet Cleaning are widely known for offering a quality service, and for being professionals who are trustworthy, honest and do a fantastic job.
Range of Services
Carpet cleaning professionals provide expert care with carpet steam cleaning and stain removal, however there are also many other add on services to ensure you are kept busy. Including tile and grout, polishing vinyl floors and duct cleaning.
Car Detailing
The car cleaning division offers franchisees who like working with cars a chance to make a living from it.
WORK IN WHAT YOU LOVE
Our car cleaning franchisees simply love cars. And it makes sense – customers usually love their cars so you need to, as well!


Why us
A Jim's Cleaning Franchise is the perfect way to start your own business.
Backed by the powerful Jim's Brand you will be in business for yourself, but not by yourself. Have control of your income, working hours and lifestyle, while also enjoying the full support of Jim's expert team.
If you've ever considered working for yourself, enjoy making clients happy, want to be more active, be healthier and have a better lifestyle then make an enquiry about a Jim's Cleaning Franchise today.
Our domestic and commercial Cleaning Franchises for Sale Program will provide you with all you need to get started including equipment, chemicals, training, business name registration, uniforms and stationary as well as ongoing one on one support to ensure your cleaning business is a success from the beginning.
Jim's is the name you can rely on and trust
Jim's Cleaning Group has been trusted as a household name since 1994 and has over 96% brand recognition. A strong brand is based on values and acts as a short cut in the decision making process, customers will instantly select and be prepared to pay more for a known brand.
Jim's Cleaning Group turn many potential customers away every day. There simply aren't enough operators to keep up with demand! We urgently need more Franchisees to keep up with demand in all States and Territories of Australia.
Why do people join Jim's Cleaning?
The power of the Jim's brand
Choose from 6 different divisions
Moderate, non-seasonal & indoor work
Choose your own work hours to suit what you want out of life
Choose where you want to work
Ideal for couples working together (or one partner helping out part time)
You tell us when you do and don't want new work
Full training (including business training)
Ongoing training, meetings & constant support
Build your business as big as you want to (extra vans, employees, etc)
Big group buying savings on insurance, equipment & chemicals
Wide range of customers including commercial, builders, domestic, etc
Featured opportunities
11 hours ago
Jim's Cleaning Group
Regional Victoria, Colac VIC 3250
$17,499
Franchise New
Has the past year made you rethink your future? During These Uncertain Times, Take Control. NOW is The Perfect Time. We Have Too Much Work & Turning Away Clients Call 131546 Top 10 BEST Franchise.
Cleaning & Maintenance > Cleaning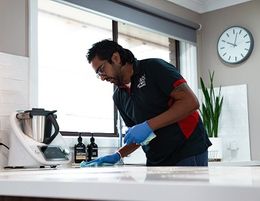 2 days ago
Jim's Cleaning Group
Regional Victoria, Lucas VIC 3350
$28,000 (Negotiable)
Franchise Resale
Jim's Cleaning Lucas is an established business complete with an extensive client list! This oppotunity allows the purchaser to hit the ground running! Call 131546 Top 10 BEST Franchise.
Cleaning & Maintenance > Cleaning