We are a fitness franchise that commenced in 1991, and now have over 65 clubs across five states in Australia (New South Wales, Queensland, South Australia, Tasmania & Victoria), with Perth expansion set for 2016. We've been named in the BRW Fast Franchises List (list of the top 100 fastest growing franchises each year) in each of 2010, 2011 and 2012.
What we do for members, in a nutshell, is combine the affordability of a typical gym membership with the highly tailored and personalised nature of a personal training program. We've rolled it up into our unique EFM Personalised Training memberships and programs.
EFM members receive the ongoing coaching and support experienced in a personal training program, but in an incredibly affordable membership price.
It's this unique offering to members that has seen us sweep across Australia and we're proud to fill the need for affordable, but highly personalised, fitness programs.
Why us
EFM Health Clubs initially operated under the name Executive Fitness Management (EFM). The reason we changed to "EFM Health Clubs" name is simple – people didn't understand what we did :-). Did we only offer memberships to CEOs and Executives? Were we a gym? Did we offer memberships to all people? In adopting EFM Health Clubs as our name, we are now more identifiable as a gym or health club.
We're a bit unique in what we do… We actually specialise in running Health Clubs from within Hospitals and Schools.
We operate over 25 clubs from within hospitals throughout Australia. We provide a staff health and fitness program for the hospital staff, and in many instances, are also open for the general public to access our Personalised Training Programs as well.
Furthermore, we have over 30 clubs located onsite at schools. Within these clubs, we run fitness programs for the school community and are proud to be playing a role in keeping staff fit and healthy, but also in fighting childhood obesity through our student "Fit 2 Play" sessions. The majority of our clubs located onsite at schools are also open for the local community to attend.
So don't be surprised if you see the odd nurse or teacher with a little extra spring in their step!
Above all else, each of our Personalised Trainers have a genuine interest in helping you as an individual. Our philosophy is that there needs to be an alternative to "the big gyms". So, if you're one of the many people who have joined a typical gym, but it didn't quite seem to suit your needs, then contact your local EFM and speak to one of our Trainers.
Featured opportunities
27 days ago
EFM Health Clubs
Sunshine Coast, Noosaville QLD 4566
$150,000
Franchise Resale
Low cost business model with an established membership base,NO rent,NO outgoings in desirable Noosaville with full aircon. Successful business with further scope for growth and great lifestyle.
Health, Beauty & Fitness > Sport, Fitness & Adventure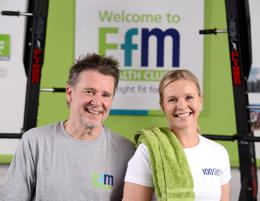 11 days ago
EFM Health Clubs
Adelaide - Greater, Payneham SA 5070
$60,000
Franchise Resale
EFM Health Clubs Payneham is on the market. This is a must see opportunity with an established strong membership base, great floor space, plenty of quality equipment and a handsome profit margin.
Health, Beauty & Fitness > Sport, Fitness & Adventure