One of the business principles that helped Bob Jane T-Marts to become the market leader in tyre, wheel and battery retailing in Australia is our outstanding customer service.
Widely regarded as Australia's most successful independent tyre retailer, each Bob Jane T-Marts location is run by a Franchise Owner, Agency Owner or Manager who has the will to succeed, possesses sound business skills, enthusiasm, drive and the ambition to provide excellence in customer service. Our people are chosen for their experience, attitude and integrity and quickly become recognised as the tyre experts in their local community.
Bob Jane T-Marts are recognised Australia-wide for our staff and management expertise, wide range of famous brands and where prices are very competitive. And, with the very best marketing and advertising support, the organisation has grown to become the envy of its competitors.
Why us
Why choose Bob Jane T-Marts?
All the things we can say and really mean:
We have over 45 years of tyre retailing experience
We have experienced and competent executive management
We have the largest share of the replacement passenger tyre and wheel market
We are the industry leaders in Australia
We are independent
We can offer low prices due to our buying power
We only sell quality products
We are a respected national franchise company
We are financially strong and very successful
We understand franchising and care about our people
We have exemplary customer loyalty
We are committed to excellence every step of the way
We are Australian owned
We have agreed to abide by the Franchising Code of Practice
We are accredited members of FCA
We are a family business
Regular training and education programs, specifically tailored to YOUR needs, include:
Nationally accredited specialist technical courses
Franchise induction program
National and State conferences
In-house seminars and workshops
On-the-job training and development
Inter T-Mart Team-Sharing programs
Educational videos, tapes and literature
Supplier support programs
What is expected of you as a Bob Jane T-Marts franchisee?
It's often said that franchising is about people not product. Given the right system and the right franchisee, the rewards are unlimited. Therefore there needs to be at the outset respect for the system by the franchisee and the system also must respect the pivotal role that the franchisee plays. Common to most successful and established franchisees are the following traits:
Self motivated, competitive, energetic and entrepreneurial
Desire and ability to be self-employed
Stable and supporting family network
Ability to work as a team and within a system
Have a natural disposition to marketing techniques
Extraordinary commitment to customer service
Interactive, enthusiastic and supportive
Flexible, progressive and intuitive
Responsive to advice
Sufficient start-up capital
What is expected of us as a franchisor?
Franchisors have an overwhelming responsibility to deliver to franchisees a business environment where they can work 'the system' to generate wealth with the least amount of risks. To create a profitable system with low risks, franchisors must display the following attributes:
A proven business system over time
Financial strength and industry influence
Protected trademarks, logos and trade identity
Ability to lead, sustain and create opportunities
Ability to understand and manage the franchise relationship
Vision and custodianship of the franchise system
Be progressive, responsible and equitable
Provide sales, marketing, business and financial support
Commitment to growth and market dominance
Dedicated to maximising the well-being of franchisees
Ongoing market appraisal and research
Featured opportunities
22 hours ago
Bob Jane T-Marts
Perth - Greater, Clarkson WA 6030
$350,000 + SAV
Franchise Resale
Bob Jane T-Marts Clarkson is part of Australia's largest independent tyre retailer with over 45 years' experience providing the right applicant/s with an opportunity to be a franchise owner.
Commercial Services > Automotive & Marine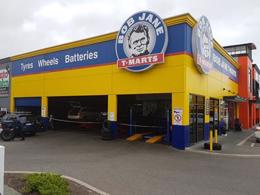 3 days ago
Bob Jane T-Marts
Regional NSW, Nowra NSW 2541
$150,000 + SAV
Franchise Resale
Bob Jane T-Marts Nowra is part of Australia's largest independent tyre retailer with over 45 years' experience providing the right applicant/s with an opportunity to be a franchise owner.
Commercial Services > Automotive & Marine