Welcome to Zambrero - Australia's largest and fastest growing Mexican Franchise. The ingredients to our success are easy; we make healthy but delicious burritos, bowls, nachos, tacos and salsa using fresh healthy ingredients that leave the customer satisfied in more than one way.
Zambrero is an Award winning Australian company, started by Dr Sam Prince in Canberra in 2005 and has now grown to over 132 restaurants worldwide, with plans for further expansion.
Zambrero is Mexican with a Mission.
We don't believe that anyone in this world should go hungry, we found a way to make Mexican food empower a social movement dedicated to the delivery of food for those in need.
We call it our PLATE 4 PLATE initiative.
We can and will help put an end to world hunger, one plate at a time. So that's why for every burrito or bowl you purchase at Zambrero, a meal is donated to someone in need. Thanks to our customers and franchise partners we have donated over 9 million meals already… and counting.
Unlike other franchises, we have a flexible footprint that can accommodate many locations. We don't cook on site; therefore, we don't require ventilation or a grease trap (unless required by local council). Our set up costs are significantly less than many franchises and we are able to cater for all types of restaurants including kiosks in food courts; inline shops and our very successful drive-thru restaurants.
We're looking for business-minded people who have a passion for our product, loves customer service and wants to join us in our mission to end world hunger. If this sounds like you, read further to find out why YOU should choose Zambrero.
"We've always been involved in charitable work and opening a Zambrero was a fantastic opportunity to combine two of our loves, running our own business and giving back" Scott Chapman, Owner of Zambrero Nerang and Chevron Renaissance
Why us
WHY YOU SHOULD CHOOSE ZAMBRERO
OUR BRAND
We are the LARGEST Mexican franchise in Australia and Australian owned. Opening 40+ restaurants per year, we will continue to expand both here in Australia and internationally. Whether you are looking for one or many restaurants, we will give you the support that you need.
SIMPLE BUSINESS MODEL
Our simple operations mean lower build costs compared to other QSRs (We don't need an exhaust and most states don't require a grease trap). We also have a number of different restaurant formats to suit your budget.
PLATE 4 PLATE
Plate 4 Plate is our way of giving back to those in need with every burrito or bowl sold. With the help of our Franchise Partners and customers, we genuinely believe we can put an end to world hunger.
NO FOOD EXPERIENCE REQUIRED
No food experience? That's ok, we don't do any cooking on site and we give you access to world-class systems to allow you to focus on growing your business.
PRODUCT AND INNOVATION
We are product people. We focus on fresh, healthy ingredients and are constantly innovating to stay ahead of the market. We have created an industry leading display unit to showcase and celebrate our food, designed to excite your customers and set you apart from the competitors. We were the first in the Mexican industry to create the Drive Thru format which has proven highly successful for us. Our restaurant formats are funky and eye catching.
Featured opportunities
5 days ago
Zambrero
$150,000 - $650,000
Franchise New
Zambrero - Australia's largest and fastest growing Mexican Franchise, a healthy quick service restaurant as well as a humanitarian enterprise committed to tackling world hunger is coming to Colac!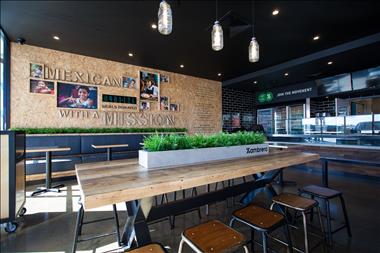 5 days ago
Zambrero
$150,000 - $650,000
Franchise New
Join Zambrero, Australia's largest & fastest growing Mexican Franchise - 142 stores across Australia. We have many opportunities in Melbourne with investments ranging from $150,000 - $650,000