Midas is a trusted household name with over 30 years' experience in the Australian market. There are currently over 80 Midas Auto Service Expert centres across Australia, with a mix of company and franchise owned stores. We have an ambitious plan to grow our network across Australia and are continually looking for exciting new locations.
Capital Investment Required: $120,000 to $220,000
Sites Territories Available: Nationwide
Qualifications Required: Mechanical experience is not essential, but a passion for customers and growing a business are.
Business Established: Established in the USA in 1956 and Australia in1976.
Training Provided: 1 week Field Support Centre training, 2 weeks on-site training and an ongoing commitment to POS training with complete support every step of the way.
Marketing Support: $2.5 million national TV advertising campaign as well as LAM support through flyers, brochures, signage and community and sponsorship opportunities. Retention & acquisition strategies are also in place to ensure constant marketing support on all levels of the business.
Agreement Terms: 10 year contract.
Number of Units: 87
Why us
Midas has grown to be one of Australia's largest, most trusted and successful networks within the Australian automotive industry. Become a Midas franchisee and get your slice of this $7.1 billion growth industry.
Turn Key Business: Midas provides a complete set up for you with state-of-the-art operating systems and support. All you need to do is focus on your customers and running your business. We set it up, you turn the key.
Advertising Power: You'll be part of a national brand, using TV, print, radio, local area marketing and a strong CRM loyalty program with an annual budget of $2.5 million.
Greater Buying Power: Unlike many other franchises, Midas pass the savings directly on to our franchisees, resulting in more money in your pockets.
Ongoing Business Support: We'll get you started, and then provide ongoing one-on-one support, as well as access to our proven systems and industry leading training and technical support.
Featured opportunities
3 days ago
Midas Australia
P.O.A
Franchise Resale
This established Midas site has easy access and is located on a busy street with great visibility and presence.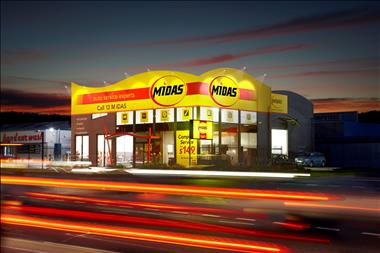 1 day ago
Midas Australia
$70,000
Franchise New
URGENT SALE - Long standing & well known established mechanical workshop in Melbourne east.