Michel's Patisserie is a premium café and patisserie brand, offering high quality coffee prepared by our in-store baristas. We offer sweet treats and scrumptious savouries for people on the go and provide the perfect place to relax and recharge.
At Michel's Patisserie, we offer an array of tantalising bakery items and provide a catering service to suit every occasion and budget.
Our wide selection of delectable cakes can be made to order either in store or online in a variety of sizes and can incorporate personalised messages, photos and themes for that special someone.
Michel's Patisserie specialises in the sale of delicious specialty cakes, pastries, treats, savouries and exclusive award winning coffee. Michel's Patisserie has grown to become a multi-award winning franchise with over 320 locations throughout Australia.
Is Michel's Patisserie the right business for me?
At Michel's Patisserie we take the process of selecting our franchising partners very seriously. Our franchisees come from all walks of life and have various backgrounds and life experiences. We do not require that you have experience in running a café, rather that you have the right personality, outlook and aspirations.
If you are wondering whether you are the right type of person to become a Michel's Patisserie franchisee, start by asking yourself the following questions:
Do I have good people skills?
Do I really want to take control of my destiny?
Do I have a strong desire to succeed in my own business?
Am I prepared to have personal day-to-day involvement in my business?
Do I have a positive attitude?
Do I have strong communication skills?
Do I have a genuine interest in people?
Do I have the ability to deliver outstanding customer service?
Am I prepared to learn and to adopt new ideas?
If you can honestly answer 'YES' to all of these questions, then you have met the initial criteria of a successful Michel's Patisserie franchisee!
Why us
Why should I purchase a Michel's Patisserie?
Michel's Patisserie offers delicious cakes and savouries as well as award winning espresso coffee
Comprehensive training at our purpose built Training Academy on the Gold Coast with dedicated, experienced and qualified trainers
Michel's is a proven franchise operating system
Field training and ongoing support
National integrated advertising and promotional campaigns
A cash business offering minimal risk of bad debt
The opportunity to become a successful business owner!
Featured opportunities
14 hours ago
Michel's Patisserie
P.O.A
Franchise Resale
Low cost of entry! Talk to us today to take advantage of a tailored purchase package to suit your needs and to be our own boss! All training provided for this rewarding company-operated franchise.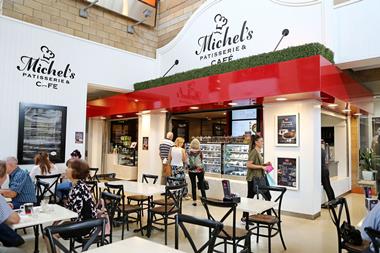 14 hours ago
Michel's Patisserie
$320,000 - $370,000
Franchise New
Dream of being your own boss? Michels Patisserie new-look franchises are now available and were looking for passionate people to join our NSW family in Tweed Mall. All training provided!