Who are we?
Guzman y Gomez is the fastest growing fast food brand in Australia, with the highest customer satisfaction of any QSR
Guzman y Gomez taquerias serve fresh, whole, delicious Mexican food and they serve it fast.
Our story starts in 2006 (back when your average Aussie couldn't tell a black bean from a black olive). Guzman y Gomez founder, Steven Marks, grew up in New York surrounded by a vibrant Latin culture and delicious Mexican food that he couldn't find a match for when he settled in Australia.
He knew Aussies would love Latin food, music and warm sense of community so set out to show Australians how good Mexican food can be... The first Guzman y Gomez taqueria opened its doors in Newtown, Sydney and we haven't looked back since. Guzman y Gomez now has 74 taquerias (and counting) across the nation and 6 in Asia!
Food is the passion and pride of Guzman y Gomez and it's at the heart of everything we do. Our menu is made of up of real Mexican recipes, flavours and cooking techniques that make Guzman y Gomez a cut above the competition. From guerrero marinades to our corn chips and guac, everything at GYG is underpinned with authenticity and a fierce commitment to only serve the best quality to our guests.
We believe there are two kinds of people in the world…Those who prefer fresh guacamole and those who are wrong. We have fresh ingredients delivered daily because a meal is only as good as the produce it's made of.
We have built our business on a solid foundation of never compromising. We don't compromise on our produce, the authenticity and quality of our food, the suppliers partner with, the team we hire or the service we provide to our guests.
There are three Guzman y Gomez store formats: food courts, strips, and drive thru, but they all have one thing in common and that's speed. We have invested heavily in technology and training so that it's possible to serve fresh food at fast food speeds (up to 450 transactions per hour) and have been known to roll a burrito in 8 seconds.
Our need for speed doesn't stop there, we are also the fastest growing QSR in Australia, reporting double digit year on year growth. Guzman y Gomez opened more than 30 taquerias in the past two years and 80 percent of those have been made possible by talented franchisees.
It's no surprise that recent Roy Morgan research found 92% of customers are satisfied with their Guzman y Gomez experience. That's the highest satisfaction rate of any QSR in Australia.
Why us
Why us?
When you become a Guzman y Gomez franchisee, you become part of our family.
That means we have your back! We are as committed to helping you thrive as we are to serving the highest quality food and spreading the love of Latin culture in Australia. We look after our people.
Market entry, opening and ongoing support
With 80 percent of Guzman y Gomez taquerias owned by franchisees, we have had a lot of experience setting our team up for success.
During every step of the process, Guzman y Gomez Head Office will be there as you establish your taqueria. You'll receive support on everything from the initial design and layout of the taqueria to training up your team and media planning for opening day.
We will help you set up your supply chain, point of sale configuration and IT systems. Once you've gotten everything off the ground, a Guzman y Gomez business coach will continually check in to make sure you're receiving the strategic support you need.
Expert leadership

We didn't become the fastest growing fast food business in Australia by accident! The GYG family comes with some pretty impressive business know-how.
Guzman y Gomez ANZ CEO Mark Hawthorne has previously held roles as Managing Director of McDonald's UK and New Zealand and you will also have the chance to benefit from the expertise and experience across our board of investors including:
Peter Ritchie, who established McDonald's in Australia and across Asia-pacific.
Steve Jermyn, previously McDonald's Australia CFO
Guy Russo, previously managing director of both McDonald's and Kmart
We also believe we have a lot to learn from the accomplished franchisees who join our family. Our family summit day is a highlight of the year. It's a chance for the head office team and franchisees to meet together and discuss our stories and ideas for how we can make GYG even better.
We want to hear your big ideas— they might just have a part to play in the future of the business. It's this unique entrepreneurial spirit that defines culture at Guzman y Gomez.
No matter how much we grow, we believe that we can still run Guzman y Gomez like a family business.
Become Numero Uno
For us it is simple… We want to be numero uno at everything we do, and we won't settle for anything less.
Guzman y Gomez is leading the fast food industry by proving you can serve high quality food, at fast food pace. Our relentless commitment to never compromising is what has earned us a loyal community of passionate guests and advocates. Not convinced? Just ask the 200,000 Gomex users who can vouch for just how much our customers love us.
We are looking for franchisees to join our family who are just as hungry to become numero uno as we are. If you have an entrepreneurial spirit, a head for business, a big heart for hospitality and want to join a winning team that's redefining what fast food means to Australians, get in touch today.
Featured opportunities
5 days ago
Guzman y Gomez
$500,000 - $1,400,000
Franchise New
GYG is seeking like-minded entrepreneurs to join the franchisee family! Multiple opportunities available in NSW, VIC, QLD and ACT.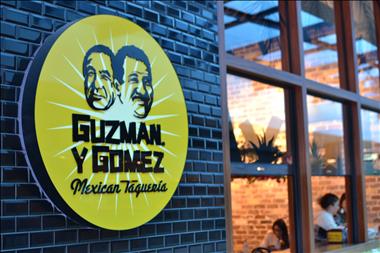 3 days ago
Guzman y Gomez
$500,000 - $1,400,000
Franchise New
GYG is seeking like-minded entrepreneurs to join the franchise family! Opportunity to partner with the leading Quick Service Restaurant Franchise in Australia. Healthy fast food is our Passion