CouriersPlease is Australia's leading courier and parcel delivery franchise, offering fast, efficient and affordable parcel delivery across town, around Australia and worldwide.
Operated by Australian business owners for Australian business owners, CouriersPlease is a local courier service with an international footprint. Over 700 independent franchise owners are supported by a worldwide network of logistics experts, passionately focused on fulfilling the needs of business clients and individual consumers.
To capitalise on the exponential growth in online shopping, CouriersPlease provides a variety of eCommerce business solutions including eCommerce Integration and final mile delivery choices.
As a fully owned subsidiary of Singapore Post, CouriersPlease is well positioned to keep Australian businesses in touch with global best practice and opportunity.
We have immediate opportunities available for highly motivated, customer focussed franchisees committed to developing a long term client base.
Here's a few reasons to get in touch:
• Zero Franchise Fee
• Guaranteed minimum income
• Established client base
• Exclusive territory to manage and develop
• Full training and support
Start your CouriersPlease journey now!
Why us
CouriersPlease has been a trusted Australian courier and parcel delivery business for over 33 years, and provides the ideal business opportunity for anyone wanting the freedom of their own business, backed by the support of an established franchise brand.
Here are a few highlights of the CouriersPlease franchise opportunity -
1. Zero Franchise Fee
We are currently offering established franchise territories where the initial franchise fee has been completely waived.
This is a rare offering in the franchising industry.
2. Guaranteed Minimum Income
To give you the best start to your CouriersPlease business venture, we guarantee your minimum income amount.
More details are available once you submit your enquiry.
3. 5 Day Working Week
A Monday to Friday work week allows you the freedom to enjoy your family life on the weekends.
4. Exclusive Territory
You have your own patch to develop and nurture to full potential.
5. Established Client Base
Your exclusive territory comes with an established client base so you hit the ground running.
6. No Experience Necessary
Freight or logistics experience definitely helps, but is by no means essential. We'll give you full training.
7. Enjoy your mobile workplace
You'll be out building relationships with your own clients and cultivating new business relationships.
8. Your own business, with full franchisor support
Enjoy the best of both worlds – the freedom to run your own business, combined with the support of an established and proven business system.
9. Full Sales and Marketing Support
We'll train you how to maximise the sales opportunities within your territory and equip you with the tools to promote our range of products to your client base.
10. Dynamic growth of the eCommerce and Online Retail Market
With the huge and constant growth of the eCommerce and Online Retail market, there has never been a better time to own a CouriersPlease franchise!
Featured opportunities
20 days ago
Couriers Please
P.O.A
Franchise New
CouriersPlease Brisbane currently has some exciting opportunities opening up in its metropolitan operation for the right business operator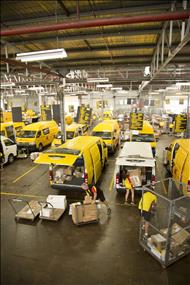 11 days ago
Couriers Please
P.O.A
Franchise New
CouriersPlease Perth currently has some exciting opportunities in its metropolitan operation for the right business operator