Becoming a business owner | 2 min read
Thriving through lock-down, together: F45 Richmond
Last updated: April 24, 2020
Running a business during a pandemic is tough, but adapting and evolving through the changes is possible.
Like many business owners across Australia on 22nd March, Glenn Thomson learned he had to close the next day due to COVID-19 restrictions.
As the owner of an F45 gym in Richmond, Melbourne, he knew he'd have to move fast. Most of his members like to train every day and to help them keep their routines and keep his business on its feet, he needed to find an alternative.
With help from F45 head office, Glenn released on-demand workout videos the same day he shut his doors on 23rd March.
"We don't classify ourselves as tech gurus so the first couple of weeks were a bit manic", he explains. But despite the fact his gym is closed, Glenn's members are still able to get their daily exercise fix.
Currently, F45 Richmond is offering on-demand and live workouts, Q&A sessions, nutrition advice, trainer tips, team challenges and Facebook networks.
Glenn knows how much people value the social aspect of going to the gym. The first live workout received great feedback and it wasn't just because of the workout. "Connection", he says. "People want to find a balance and connect with each other. They're after a sanctuary from what's going on out there – an escape".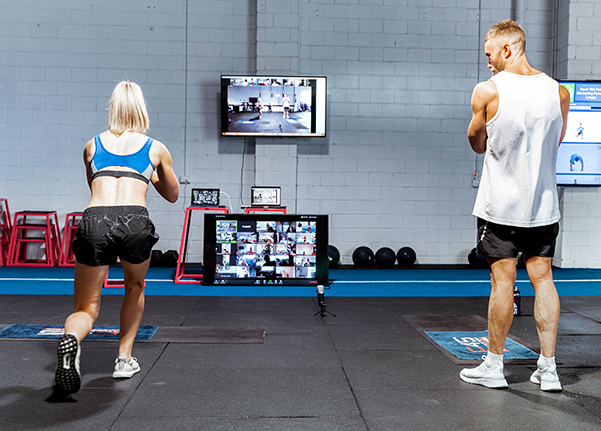 The biggest challenge has been helping his employees navigate an uncertain working environment. He's given plenty of pep talks, offered lots of reassurance they will keep their jobs and tried to stay upbeat. His message to his staff? "Stick together and focus on what we can do…push through it together."
Overall, he's trying to keep both his staff and members in a good headspace. "In the current environment, mental health is paramount", he says.
There's no denying his business, like others, is facing a big challenge. But COVID-19 has also thrown up some potential opportunities.
"The live streams have opened up a lot of avenues to provide a variety of training options and services", he says. His gym is now offering things like pilates and nutrition advice that members couldn't usually access at the gym premises.
Glenn is reluctant to offer specific suggestions to other businesses because the lockdown is affecting different people in different ways. But his general advice is to stay positive. Instead of wasting energy focusing on the negatives, he suggests focusing on factors within your control.
"The situation is what it is. We're not alone", he says. "If you can be proactive and pivot your service quickly and effectively, you'll put yourself in the best position to get through this period".