Welcome to THE Shed Company Franchise
Be Part of a Dynamic Australian Industry
The Australian shed industry is conservatively estimated to be worth over $600 million a year producing more than 60,000 sheds annually and is growing every year.
Become a Franchisee with THE Shed Company
THE Shed Company was established in 2005 and quickly became one of Australia's fastest growing and most successful Franchise groups. This success was recognised by the Financial Review's Smart Investor Magazine early in our history. After close examination of over 1000 Franchise companies, THE Shed Company was named one of the top eight Franchising companies in Australia in 2007, 2009 and again in 2010.
A new phase of growth for THE Shed Company has now been ushered in. 2014 marked the brand becoming a Franchise based division of the Australian steel giant, the Steelx Group. The Steelx Group has been operating since 2000 and has emerged as an industry leader with cutting edge technology and engineering, market leading products and state of the art sales and marketing systems. Steelx has multiple forms of distribution for its high quality steel building solutions and sees Business Format Franchising as the ideal medium to continue the year on year impressive growth it has enjoyed since inception.
The key to the Steelx Group's success has been the outstanding design, quoting, invoicing and product ordering software it has developed over the last fifteen years. This system is now in use across THE Shed Company Franchise. The user-friendly software means that motivated people from any walk of life can now easily become successful business owners, selling and marketing steel buildings under THE Shed Company brand.
What we are looking for
THE Shed Company's recruitment process has been extremely successful over the years. We are passionate about recruitment and believe in recruiting the best people and supplying them with the very best tools for success. Our own success depends on it.
Specifically, we believe THE Shed Company franchise is perfect for those who have:
A high motivation for success
Well developed selling and people skills
Previous business experience (desirable but not essential - we can teach you)
Financial security or the ability to obtain finance
A willingness to set up a display/office in a high exposure location
A commitment to marketing, branding and growing your business
A desire to work for yourself, but not by yourself
You don't need to be a builder to be part of THE Shed Company success story. We will teach you what you need know to build a successful business and we will assist you in getting the subcontractors you need to erect the sheds. Of far greater importance is your determination to succeed, your ability to deal with people and your organisational ability.
If you think you meet these criteria and would like to find out more about the steel building industry and what THE Shed Company can offer you, please complete and send the enquiry form on this page and we will be in touch with you by telephone to help you begin the process of discovery.
Why us
Discover THE Shed Company Difference!
With years of experience in the steel building industry, THE Shed Company Franchise offers all the ingredients required for those looking to run their own highly successful business.
Outstanding Product Range
Our steel buildings have a variety applications including:
Farm & Machinery Sheds
Garages & Garaports
Workshops
Barns
Equine & Livestock Structures
Carports
Patios
Industrial & Commercial Buildings
Steel Kit Homes
Garden sheds
Versatility & Custom Designs
THE Shed Company's product range has been designed to provide versatility and flexibility in meeting our customer's needs and wants. Our market leading software allows you to create customised buildings for all applications. It factors in site specific engineering on all designs and produces plans and drawings that are engineer certified and ready for submission to local councils.
Strength to Endure
All of the structural elements of our buildings are manufactured from 100% Australian BlueScope high-tensile cold rolled steel. Cladding and custom designed flashings are available in heavy duty ZINCALUME® and COLORBOND® steel. THE Shed Company is ShedSafe accredited which means our designs fully comply with the Building Code of Australia and national standards. Our designs and documentation have been reviewed and approved by an independent engineer, providing confidence for our clients that they are purchasing high quality products.
National Reach with Local Feel
We manufacture in all States and Territories around Australia from 23 sites and offer free delivery in metropolitan areas and major rural centres. Each store services their local region yet has the buying power of a major national company.
No Royalties
Unlike most Franchises in the Australian market we do not charge our Franchisees any Royalty Fees. We succeed when you succeed. In addition to this we don't charge ongoing fees for the use of our brand, software and systems.
This provides us with an even greater incentive to make sure you have everything working smoothly in your business and that you are thriving.
Excellent Cash Flow
Our stores carry no stock and customers pay prior to their steel building being manufactured. This provides an environment for excellent cash flow; provided that you manage your overheads properly (we'll show you how to do that). There are very few businesses in the marketplace that can offer this kind of advantage.
Low Entry Cost
Whilst there is a $45,000 (plus GST) Franchise Fee we spend the majority of it on you and your business to help you get established.
This support includes design/quoting software, initial store opening/launch advertising, signage for your premises, internal artwork displays, component displays, vehicle signage/wraps, uniforms, training, stationary, brochures and promotional material. We will work with you to determine the best means of using the Franchise Fee for your benefit.
Comprehensive Training
THE Shed Company has Franchisees that have prior experience in the building industry and those that do not. Whether you are a builder or not the most important attributes you can bring with you to be successful are your ability to deal with people, your ability to organise and a passion to succeed.
Our unique online pre- training program provides you with an initial immersion into what you need to know before you visit our National Training Centre for more advanced one-on-one training on the use of our design, quoting, ordering and invoicing software. During your time at the National Training Centre you will also meet and receive training from THE Shed Company support team in all aspects of the business including product, systems, software, sales, marketing, technical, administration and operational procedures.
Following this you will have the opportunity to spend time with an existing Franchisee in his territory, participating in day to day activities and learning more about sheds and THE Shed company system. Once this is completed and you return to your territory THE Shed Company will send a team member there to assist you with the setup of your business, including building a network of shed erectors and to help you process your initial orders.
Once you are operating on your own you will have ready access to telephone and email support from THE Shed Company support team that you will meet while at the National Training Centre.
Marketing Support
Marketing has always been a key element of THE Shed Company success story. Our industry leading Marketing Team will support you in executing local campaigns across your territory. They also manage the national website and can offer support for search engine optimisation and pay per click campaigns. We have a full time Graphic Designer on our team who can provide custom artwork for you without charge.
Featured opportunities
2 days ago
The Shed Company
Toowoomba | Regional QLD
$10,000
Franchise New
Massive demand for sheds, low overheads, excellent ROI. Be your own Boss. Building or trade experience highly regarded. Bring your passion to succeed & your sales and people skills!
Miscellaneous > Master Franchises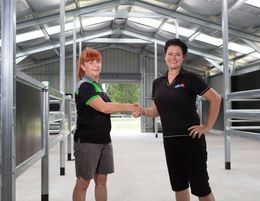 2 days ago
The Shed Company
Toowoomba | Regional QLD
$10,000
Franchise New
Massive demand for sheds, low overheads, excellent ROI. Be your own Boss. Building or trade experience highly regarded. Bring your passion to succeed & your sales and people skills!
Commercial Services > Building & Construction