Hire A Hubby is Australia's leading handyman franchise, with over 320 franchisees across the country. We are always looking for new people who have a great set of DIY skills and want to run their own business.
Hire A Hubby franchisees come from all different working backgrounds and for many, coming on board with Hire A Hubby is their first time running a business. Although we have franchisees in every state and territory across the country, we still have a large demand of work we are not able to service and are always looking for individuals who would love to run their own property maintenance business.
Some key benefits of our model:
A minimum income guarantee to support you through your first 12 months of operating your business
An award winning franchise model that continues to grow and improve every year
A recognised brand that will generate domestic and commercial work from day one
An exclusive territory
Initial qualifications provided and additional qualifications can be obtained through the life of the business
Key Commercial relationships already established
Comprehensive training, both in business and common handyman skills
Support from the Hire A Hubby operations team, who will help launch your business and mentor your franchise performance
Simple yet effective systems that are designed to maximise profitability and efficiency in your business.
If you're interested in running your own handyman business and like the idea of doing it with Hire A Hubby, please make an enquiry and a member of our franchise team will be in touch shortly.
Why us
What can you Expect when coming on board with Hire A Hubby?
Minimum Income Guarantee available for your first year in the business
Comprehensive induction training, combining quoting, business management, marketing, cashflow as well as workshop activities.
Launch Program for all new franchisees. This includes meeting local businesses, setting marketing strategies and business goals and assisting the franchisee in the field. This induction then leads into ongoing support from the State base Operations team working with the franchisee to build strong profitability.
Continual Menoring, from 3 month business reviews, annual business reviews, education sessions such as our Business 101 sessions for new franchisees. The purpose of our ongoing support is to assist the franchisee to keep focused and to keep growing their business, as the wants and needs change.
Growth Strategies for franchisees who transition from being a 'Man in a Van' through to having multiple subcontractors and staff working for them. This transition makes the franchisee a one stop shop for domestic and commercial clients
Buying power allows us a head office to negotiate for installation contracts or national brand contracts that our franchisees can service across the country. It also entitles us to discounts from suppliers ranging from insurance through to materials.
What it takes to be a Hire A Hubby Franchisee
Hire A Hubby franchisees come from all different working backgrounds with different strengths and weaknesses. Although we deliver strong levels of support to all of our franchisees, we look for franchisees with the following skills and traits:
Good all-round handyman skills
Customer service & communication
Time management and organisation
The desire to own and operate your own business

Hire A Hubby Story
In 1996, Hire A Hubby was established as a company and began offering franchises opportunities for sale across the state of Victoria. With a skill shortage across the country and people increasingly becoming more time poor, it wasn't long until Hire A Hubby was ready to expand nationally, with Brendan Green purchasing the rights to the NSW/ACT Master Franchise.
With Brendan's success in NSW/ACT, he made the decision to purchase the rights to Hire A Hubby and progressively expanded the business to encompass dedicated operations into Queensland and established master franchises in both South Australia and Western Australia, securing Hire A Hubby as a national brand.
Hire A Hubby has franchisees in every state and territory across the country and also expanded operations into the UK.
Currently, Hire A Hubby has 320 franchisees Australia wide covering all metropolitan and most regional locations across the country. The east coast states all have a dedicated State office and operations team which support franchisees in running their businesses successfully through national conferences, business reviews, work generation and general business mentoring.
In 2014, Hire A Hubby became affiliated with the Prostate Cancer Foundation Australia (PCFA) with our franchisees supporting the cause by raising awareness and donating $1.00 from every invoice.
Featured opportunities
1 day ago
Hire a Hubby Australia
Regional NSW, Albury NSW 2640
$45,000 - $65,000
Franchise New
Australia's largest handyman franchise business providing property maintenance services to homes and businesses Nationally.
Cleaning & Maintenance > Handymen & Home services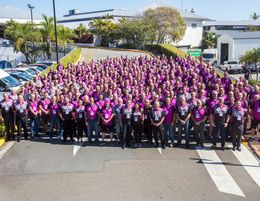 1 day ago
Hire a Hubby Australia
Morningside | Brisbane - Greater
$45,000 - $95,000
Franchise New
A great opportunity to buy an established business in this desirable area backed by the award winning support and training from the Hire A Hubby head office.
Cleaning & Maintenance > Handymen & Home services