Like many successful companies such as Google, Disney, Hewlett Packard, and Apple, Experimac was started out of a garage. Jim Muir, the founder of the company, wanted to offer customers top of the line electronics equipment such as Apple products, but at an affordable rate. Jim began purchasing used electronics equipment such as computers, cell phones & tablets to buy, repair and sell. The concept was so successful that Jim was quickly able to open a retail location.
After enjoying several years of success at the West Palm Beach Experimac location, Jim Muir decided to expand and begin offering others the opportunity to own Experimac locations by franchising. Muir teamed up with Ray Titus, the founder and CEO of the franchising conglomerate United Franchise Group in February 2015. Muir and Titus knew one another on a personal level from church and their children's school, so Titus felt comfortable investing in Muir's innovative idea. Titus said "This is an incredible opportunity that I feel United Franchise Group can take Worldwide."
The first Experimac location began earning over one million dollars annually by the end of 2012. In 2013, the store grossed over $1.8 million. There are currently several franchise locations in Florida and Georgia, as well as a few other states. While new franchise owners should not expect to replicate the success of the first store right away, the Experimac concept can help franchise owners to realize higher profits more quickly than most other franchise concepts.
Why us
Experimac is a one-of-a-kind concept. No one else specialises in selling pre-owned Apple ® products, selling accessories, making repairs, taking trade-ins, and selling software and system updates.The products and services that Experimac offers are in high demand and can all be found in one place at Experimac stores. New Experimac franchisees have the opportunity to get in on the ground floor with this innovative concept, selecting the best areas available and gaining local trust before others come on the scene.
Financially Rewarding
For entrepreneurs that wish to invest in a franchise concept but don't know where to turn, Experimac is a wise solution. Experimac offers customers technology expertise and equipment that has some of the highest resale values in the industry, so franchisees can expect to see more business and to profit faster than other franchisees. Most customers that visit Experimac locations are there to buy products or pay for services, so the close rate is exceptionally high.
Good Quality of Life
Experimac offers franchisees and franchise location employees a better quality of life than many other types of franchises. Locations are closed on Sundays and holidays and adhere to comfortable business hours. There is no heavy equipment to lift and no extreme conditions to work in. Most employees love working in the technology industry and most customers are delighted with the products and services that Experimac locations offer, so the atmosphere of Experimac locations is fun and upbeat.
Support of United Franchise Group
The United Franchise Group has been in business for over 30 years, helping franchisees across many different industries to become successful. The United Franchise Group lends Experimac franchisees business expertise and a winning formula for both start-up and continued operations. The United Franchise Group also has a 3,000 square metre warehouse which holds used electronics that can be purchased by franchisees if franchisees cannot find enough stock for their retail locations.
Extensive Training and Support
Experimac franchisees don't have to be tech industry experts, as franchisees receive extensive training and support. Franchisees attend a two week training course in West Palm Beach, Florida, during which time Experimac support teams begin to set up the new franchise location. Upon completion of the training course, franchisees travel to the new location to begin operations and receive on-the-job training. Experimac support teams help franchisees hire employees, set up for success, and begin operations while providing advice and guidance.
Featured opportunities
2 days ago
Experimac
Perth - Greater
$165,000 - $180,000
Franchise Resale
Experimac is the innovator in technology sales and service, specialising in highly coveted Apple® products with multiple revenue streams and a track record for financial success.
Commercial Services > Telecommunications & Internet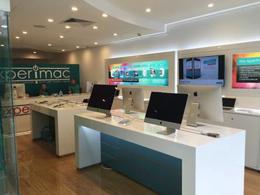 2 days ago
Experimac
Sunshine Coast
$200,000 - $220,000
Franchise New
Experimac is the innovator in technology sales and service, specialising in highly coveted Apple® products with multiple revenue streams and a track record for financial success.
Commercial Services > Telecommunications & Internet