Elite Maintenance Services
Established in 1984. At Elite we specialize in Carpet Cleaning, Upholstery Cleaning, cleaning your Mats and Rugs, Stain Removal from Carpets, Mattress Cleaning, Pet Control Management, Restoring Water Damaged Carpets, and Carpet and Fabric Protection. Elite has been cleaning carpets for over 35 years which is why we are proud to say: With Pride – Australia Wide. When it comes to carpet cleaning, experience does matter!
Elite Carpet Dry Cleaning started in 1984. We are based in Brisbane and have grown over the years to cover all Australian states plus ACT.
Why us
Why Choose Elite Maintenance Services?
There are many benefits to invest in Elite Carpet Dry Cleaning Business to own Franchise Opportunity. There are thousands of business franchise opportunities to choose from in Australia. Check Here, why you should seriously consider Elite Carpet Dry Cleaning Franchise.
1. Be Your Own Boss with Diversity of Work
• Set your own hours and holidays.
• No boss to answer and you can make your own decisions.
• Watch as your hard work becomes an asset for you.
• Travel within your local area and meet lots of different people.
• Make friends and learn from your franchise network to gather new skills.

2. Already Established Business
• Our brand name is already known & respected.
• Elite has been established for over 30 years.
• Take advantage of our existing brand recognition – be on top of people's minds.
• Use our already proven business strategies to your advantage.
• Your own exclusive territory.
• Priority 13 phone number automatically sends leads to your phone.
• A highly optimized website helps funnel sales leads your way.

3. The Ultimate Business Model
• Be your own boss & achieve the perfect work-lifestyle balance.
• Comprehensive training continued ongoing support &plenty of customers.
• A proven business system that really works.
• A high margin – set low fee structure that allows you to maximize your profits.
• Low capital expenditure & low maintenance costs.
• Unique way of carpet dry cleaning system, which is easier than steam cleaning with lighter equipment, easy to use machines & environmentally safe chemicals.
• Your own exclusive territory is generous in size
• Grow your business without extra fees.
• Your own exclusive territory is generous in size
• Great franchise community who are willing to share & help each other.
• Quality products & additional services to give your business a significant boost.
• Direct access to Operations Manager & Director.
• 13 15 80 number automatically sends leads to your phone or our call centre, it is your choice.
• A professional marketing team helps funnel sales leads your way.
• Proud FCA (Franchise Council of Australia) Member.
Featured opportunities
6 days ago
Elite Maintenance Services Group
Launceston, TAS | Regional TAS
$0 - $27,500
Franchise New
Elite Maintenance Services is a trusted brand established in 1984. With pride, Australia wide! Highly recognized in: Carpet Dry Cleaning, Deodorization, Upholstery, Sanitization, Pest Control and more
Cleaning & Maintenance > Cleaning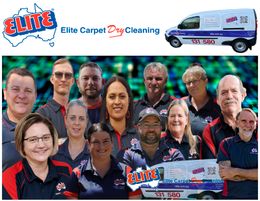 7 days ago
Elite Maintenance Services Group
Townsville | Regional QLD
$15,000
Franchise New
Looking for a better work/life balance? Want to be your own Boss? Tired of working for the benefit of others! Elite has franchises available now! No experience necessary
Miscellaneous > Master Franchises