MyDegani
Born in the late 1990s, Degani quickly became a leader in Melbournes' burgeoning cafe market, before strong interest from across the country led to national expansion. At the time of printing we have over 80 cafes, restaurants and kiosks (with more opening each month!) So why has this little café from Clifton Hill grown so much?
We believe the reasons for our success are:
MyMenu
Every Degani menu is unique, providing a locally tailored solution to amplify your profitability.
MyCulture
You as a franchisee are the added element that connects with your community and makes your Degani unique.
MyDesign
Every Degani is tailor built to be welcoming, on trend and attractive.
MySupport
You are in business for yourself, but not by yourself. We have the system to help you grow. The journey to becoming a Degani franchisee is deliberately detailed, as we are entering into a long term relationship based on mutual respect and trust. We both need to do our homework to ensure that our goals and values are aligned.
This is just the first step and for some it may not go any further. But if this sounds like the right fit for you, we look forward to getting to know you and taking the next steps together.
Kind regards,
Darren Lane
Chief Executive Officer
Why us
Mybusiness
An Affordable Opportunity
Degani is the affordable business opportunity, as we have designed our business model to attract the right franchise business partners to create success. We offer competitively priced franchise fees and royalties to assist our franchisees in reaching their goals.
Our Franchise Business Model is engineered from intimate industry knowledge. This has enabled us to compile simply structured operational guidelines and tailored marketing initiatives to help you to continually grow your business. The relationship with your dedicated Business Development Manager allows for coaching and growth strategies to be developed and implemented. This makes doing business with Degani a true partnership based on mutual respect, recognition & understanding.
Featured opportunities
5 hours ago
Degani Cafe
Regional Victoria, Ballarat VIC 3350
$220,000 - $350,000
Franchise New
With 55 cafes in Melbourne and 70 around Australia you can now own a modern Degani cafe in Ballarat! Flexible local menu and great tasting coffee from a great looking cafe.
Food & Drink > Coffee, Cafes & Restaurants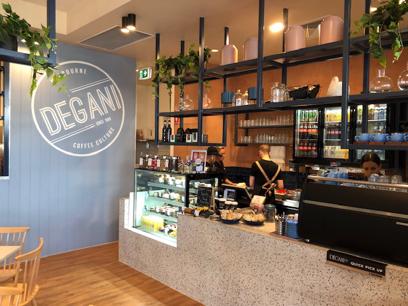 6 hours ago
Degani Cafe
Oakleigh | Melbourne - Greater
$270,000 - $290,000
Franchise New
New Degani cafe located at the main entrance to Coles & only metres from Woolworths - top spot in a very busy shopping centre. Low competition. High opportunity. Move quick to make this your cafe.
Food & Drink > Takeaway & Casual Dining