Dash DogWash, Clip & Groom is Australia's newest business in mobile dog washing.
We come to your home to look after your family furry member's grooming requirements.
Isn't it time you loved your work?
There are millions of dogs in Australia and if you have a passion for dogs, dream of being your own boss and want to find the ideal income and lifestyle balance, then please read on!
Our Dash DogWash groomers come from all walks of life: financial; retail; corporate; legal, logistics. All come to us with one common goal – to be truly independent; earn good $'s and enjoy a better lifestyle!
At Dash DogWash we are all about changing lives for the better. We provide an affordable opportunity into your own business without the stress factors experienced when choosing to go it alone. We have a proven business system that works. Your training will ensure you follow this successful formula while enjoying support across Australia from local management.
Dash DogWash enjoys all the benefits of our sister company, Blue Wheelers Wash, Clip & Groom - your Big Yellow Kennel is available at a lower start up price as the Dash DogWash brand continues to grow.
Why us
Dash DogWash is a new start up brand, introduced by its sister company, Blue Wheelers Wash, Clip & Groom.
With all the experience of Blue Wheelers behind it, Dash DogWash is the most affordable option of getting into the grooming industry with all the same values and experience but without the cost associated with the Big Blue Dog. You get all the same benefits as our Blue Wheeler groomers with the start up of a lesser known brand!
The Australian pet industry is a $6 billion market and growing. With 39% of homes owning over 4.2 million dogs, Dash DogWash franchisees can earn upwards of $1200 a week.
Featured opportunities
Now
Dash DogWash
Adelaide - multiple suburbs available | Adelaide - Greater
$9,990 - $19,490
Franchise New
Dash DogWash is the brother brand of Blue Wheelers, Australia's #1 choice in Mobile Dog Grooming. Join this renowned franchise with your own territory & eye catching Yellow Kennel trailer.
Personal Services > Pet products & services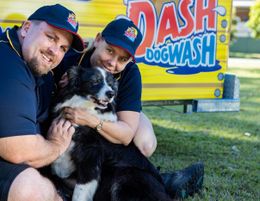 Now
Dash DogWash
Brisbane - Greater
$9,990 - $19,490
Franchise New
Join the booming pet industry & our team of 180+ Dash DogWash & Blue Wheeler Groomers. Enjoy the freedom of getting off the leash, out of the office and becoming your own boss. No experience needed.
Personal Services > Pet products & services