About us….
Since 1980, Bakers Delight has been one of Australia's best known and loved bakery brands.
As we enter our 40th year in business, our business is as strong as ever. Today we are still one of the world's most successful bakery franchise businesses because we delight nearly 10 million customers every year with our daily fresh baked goods.
This success is built on the quality of our ingredients, proven systems, ongoing innovation and a passion to delight customers with superior bread and exceptional customer service.
We are looking for individuals with the passion and drive to build a successful business of their own as part of Bakers Delight's exciting future.
No experience? No Problem!
Drawing on 40 years of knowledge, our team of franchising and bakery experts will:
Assist with financial planning and driving profitability
Help you manage day-to-day business operations
Train you to bake the highest quality fresh bread
Support you to train and develop your bakery team
Facilitate and implement community and local marketing strategies
Featured opportunities
18 hours ago
Bakers Delight Bakery
Regional SA, Port Pirie SA 5540
$160,000 + SAV
Franchise Resale
Located in the Centro Plaza in the heart of the town, operating since 2002. This bakery has average weekly sales in excess of $18,500
Retail > Food outlets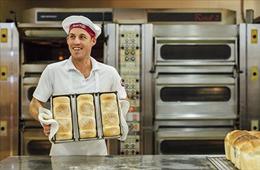 18 hours ago
Bakers Delight Bakery
Adelaide - Greater, St Agnes SA 5097
$120,000 (Negotiable) + SAV
Franchise Resale
Bakers Delight bakery is located in the St Agnes Shopping Centre with average weekly sales of $18,000
Retail > Food outlets