12RND Fitness is perfectly placed within both the high-growth boutique fitness market and the worldwide movement towards boxing for fitness.
We are recognised by investors and fitness professionals internationally for our unique points of difference. We deliver the most convenient, enjoyable and effective workout to our members as well as a rewarding and enjoyable business for Franchisees.
Since the first franchise opened in 2016 we have grown to over 100 franchise territories, making us one of the largest boxing providers of all time, and by far the fastest growing.
The benefits of becoming a 12RND Fitness Franchisee:
Low Start Up Capital: $200,000 - $220,000 with pre-approved finance options available
Unique Proven Concept: No Fixed Class Times + Boxing + Strength Training
A Team of Experts: Complete strategic support including marketing and operations.
Highly Profitable: Small footprint + high member capacity = low breakeven + a high yielding opportunity
No Fitness Experience Required: We welcome entrepreneurs of all backgrounds
At 12RND Fitness, we deliver a sense of community, camaraderie and belonging, the most attractive aspects of sports, and combine these elements with convenience, accessibility, expert support and intelligent programming. We have identified the reasons that motivate an individual to take control of their fitness and the barriers that may stop them, to create an environment where results are an additional benefit to the pure enjoyment of the workout.
We are changing the way in which the world views a fighter. No longer is the feeling of being a fighter reserved for those who step into a ring. 12RND Fitness allows the everyday person to train like an athlete and encourages them to seek purpose behind what drives them. Our members adopt a "winning mindset"; they begin to look, feel and think like a boxer, and develop the strength, confidence and discipline of a true fighter.
There's a reason we call our members "fighters". Training isn't just about how you look, it's also about how you feel and even how you can inspire others to feel. Ask a 12RND'er why they train and they'll tell you, it's for their family, or it's for their future, or it's for their mental health. Everyone's fighting for something...What are you fighting for?
Why us
12RND Fitness was created to provide an unparalleled experience for members, by creating an environment that felt like playing team sports, was based on scientific principles and focused on standing out in the market. By focusing on the three main pillars of Convenience, Enjoyment and Results, you can be confident that by joining 12RND Fitness as a Franchisee, you will have a product that delivers what customers are looking for and is clearly differentiated from the competition.

CONVENIENCE
We live in a time of constant distractions and obligations, restricting our time and willpower. This has led to the emergence of a convenience economy that empowers consumers to choose how and when they engage with the provider.


Our No Fixed Class Times model allows our members to train on their schedule:
NO CLASS TIMETABLE
NO NEED TO BOOK
NEVER BE LATE
Our model provides consumers with access to the coaches and training styles that have previously only been available to elite athletes, at a time that suits them.

ENJOYMENT
Anyone who has enjoyed playing sports understands that the emotional enjoyment often outweighs the physical benefits; and if you enjoy an activity you will stick with it. Therefore, providing a workout that incorporates elements of sport, ensures that at its core, it's enjoyable
Our team-based training, coach interaction and boxing components create this sports environment, and are attractive because they offer:
Belonging to a community of like- minded people
The ability to learn a skill and working towards a collective goal
A sense of achievement with every session

RESULTS
In all sectors, customers demand and deserve results from the products and services they use. This is no more apparent than in fitness, and as a service provider, we accept the pledge of money for results.
This is where we introduce the science of physiology and psychology into our member offering. By focusing on the most effective training and nutrition methods, in combination with motivational psychology, we are confident that every member who joins our clubs will get amazing results.
When members achieve results, it fulfils the value of their membership and generates greater loyalty to the program. These are all key contributors to long-term commitment and retention.
Featured opportunities
13 days ago
12RND Fitness
Eastern Suburbs | Sydney - Greater
$110,000 - $130,000
Franchise New
If you have been considering opening your own business in an industry you are passionate about, then a 12RND Fitness gym could be the perfect option.
Health, Beauty & Fitness > Sport, Fitness & Adventure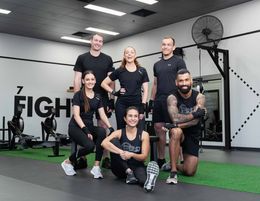 13 days ago
12RND Fitness
Sydney - Greater, Parramatta NSW 2150
$110,000 - $130,000
Franchise New
If you have been considering opening your own business in an industry you are passionate about, then a 12RND Fitness gym could be the perfect option.
Health, Beauty & Fitness > Sport, Fitness & Adventure