Xpresso Mobile Café is a franchised 'coffee van' system. Each mobile cafe is stocked with Di Bella Coffee products and many other treats - franchisees are intensively trained to produce the ultimate espresso coffee experience for our customers EVERY time. We aim to be the BEST– rather than the biggest. Our goal is to remain the industry benchmark in Australia with our innovative vans, smartphone technology, superior Di Bella Coffee hot/cold products (including snacks) and customer service. We want all businesses that are not close to a café to be able to enjoy their daily favourite brew!
Xpresso Mobile Café is on a national hunt for happy and positive people that are passionate about coffee as we are. If this sounds like you and you want to become self-employed in Australia's billion dollar espresso coffee industry, call Xpresso today on 1300 655 559 or visit xpresso.com.au
Why us
Be a part of something better... here's why...
Di Bella coffee! Australia's multi award winning and largest specialty coffee roaster - amongst the Top 50 Innovative companies for 2013. Align yourself with a trusted name in coffee that will not only attract customers, but will keep them coming back!
an INCOME GUARANTEE!! $2500 PER WEEK FOR FOUR (4) WEEKS
a brand new Mercedes Benz Vito (auto diesel) 3-seater van fully customized to sell the full suite of Di Bella Coffee products
FLEXIBILITY on what food items you can sell! (all foods must be individually wrapped and we do not sell heated foods)
NO NOISY & SMELLY GENERATORS! We use an innovative LPG gas/battery/inverter power source
3 weeks of training which will leave you with a customer base and instant cash flow
Smartphone applications that allow you to accept cashless payments, manage loyalty and communicate with your customers
Bluetooth wireless connectivity to your smartphone to play music at the rear of van (speakers also fitted)
A dedicated huge display fridge to stock food/drink items as well as innovative Di Bella Coffee products
Marketing Package that includes a branded café style umbrella, 2 x branded breeze barriers and 1 x branded A-frame + mini tables/chairs
Generous start-up stock!
The Best Coffee. The Best Vans. The Best Decision You'll Ever Make!
Featured opportunities
5 days ago
Xpresso Mobile Cafe
$90,000 (Negotiable)
Franchise Resale
Instant Cashflow! $600+ per day in T/O Premium Di Bella Coffee 3-weeks training inc 2 weeks with the outgoing franchisee Brand new van wrap! Plenty of events on offer from head office Full stock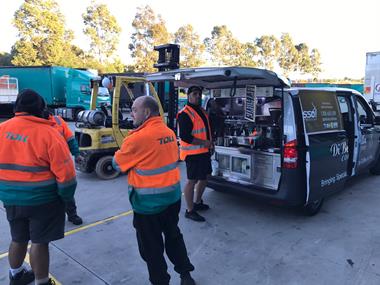 5 days ago
Xpresso Mobile Cafe
$90,000 (Negotiable)
Franchise Resale
Instant Cashflow! $600+ per day in T/O Premium Di Bella Coffee 3-weeks training inc 2 weeks with the outgoing franchisee Brand new van wrap! Plenty of events on offer from head office Full stock