VIP Lighting is Australia and New Zealand's largest national lighting maintenance company servicing large, notable retail chains and commercial organisations.
Established in 1995 from humble beginnings VIP Lighting now services over 10,000 client sites nationwide. Our valued customers include retail chains, government, commercial banks and professional services.
VIP Lighting Franchise territories are large exclusive zones that come with an extensive list of established existing clients. We are now seeking dedicated people to manage these areas to ensure further growth while maintaining excellence in customer service.
Our unique business model gives us a competitive advantage and enables VIP Lighting to deliver un-paralleled customer service to its clients. We provide them with globe replacement, essential service maintenance, LED conversions, general lighting repair and electrical work. Regardless of whether it's regional or metro we can service our client's sites with a single pricing structure.
VIP Lighting Franchisees work closely with our Head Office and the dedicated support team on a daily basis. From day one our new franchisees will have all the tools, clients, systems and support needed to be successful and continue the tradition of excellence VIP Lighting had built over the last 20 years.
VIP Lighting has core values of honesty, integrity and un-paralleled customer service.
Franchises are available to:
Non Electricians
Globe Replacement Technicians
Qualified Electricians
Why us
At VIP Lighting we take a team approach to franchising.
Our franchising model is unique, simple and a true partnership that removes a lot of the hassle and paperwork often required when running a small business or acting as a contractor. VIP Lighting has been in business for over 20 years and is a trusted name in the lighting maintenance industry.
In 2003 we completed the Franchising Code requirements due to the rapid growth of the business. Franchising has strengthened our ability to service clients nationwide and has given others a chance to grow with us. For us, Franchisee's will take ownership of a territory and ensure it is being worked to its maximum potential.
VIP Lighting has built a great team and seeks others with the same level of commitment to join us!
A Large Territory
VIP Lighting Franchise Territories are huge! Unlike other franchise opportunities that offer select areas based around a few suburbs we have structured our locations to achieve maximum results for our franchisees.
Existing Customer Base
From Day 1 you will have a full list of jobs and clients sites to attend to. (Not too many franchise opportunities come along where you can focus all your efforts on servicing clients rather than trying to find them!) We are retail experts with many chain stores as clients so you could potentially visit one centre and attend to a dozen different customer sites in a day.
Business Systems
Head Office will field all customer support calls, book jobs into the system, follow up and look after the invoicing. Our job management software allows for real time job scheduling, updating, quoting, stock selection and all integrated directly into the accounting system. Simple, fast and effective, you'll be able to see a plan work days in advance via a mobile device. All of this means you won't need to lease office space and therefore manage any logistics from your home!
Minimal Stock Holding
Another great aspect of VIP Lighting is how we handle and distribute stock. You won't need to rent a warehouse as you'll only be keeping a select amount of stock of the most commonly used globes and products required by our clients. All bulk stock is kept at the Head Office warehouse and only sent to you as needed. Our history and bulk buying power see VIP Lighting get the best pricing levels from our suppliers and distributers and we pass this saving onto our Franchisee's and customers.
Marketing Support
You will benefit from VIP Lighting's dedicated National Marketing & Development Manager that will work with you to grow the customer base in your area, as well as work on all the franchisee's behalf acquiring new clients with a nationwide presence. You'll have
A Trusted Name
Becoming part of the VIP Lighting team will also give you peace of mind with your investment. Established in 1995 the company has built a strong reputation and earned respect in all industries we serve. With VIP Lighting you'll have instant business credibility and benefit from the previous two decades the company has spent building the brand.
Hear from some of our Multi-Territory Franchise Owners
"With VIP Lighting's unique business model I don't have to worry about finding new customers or chasing overdue accounts and all the paper-work that goes with it. The team at head office are always on top of things and I can just focus on the work for the day. Also getting out to clients makes every day different, with new challenges and sure beats a desk job! After I bought my first franchise in 2004 I didn't need a lot of convincing when I went on to purchase my second and third one!" – Emmanuel M., Sydney, NSW
"In 2010 I was looking for a change from being a Manager at a timber yard and knew I wanted to find something that gave me more freedom. After doing a lot of searching the opportunity with VIP Lighting was hard to pass up. Since purchasing my original franchise I went onto buy a second and could not be happier." – Todd D., Brisbane, QLD
Featured opportunities
2 days ago
VIP Lighting
$50,000 - $75,000
Franchise New
VIP Lighting is Australia's leader in providing lighting and electrical maintenance to some of Australia's most notable retail chains nationwide. This opportunity includes a large existing client base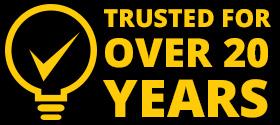 2 days ago
VIP Lighting
$75,000 - $100,000
Franchise New
VIP Lighting is NZ's leader in providing lighting and electrical maintenance to notable retail chains nationwide. These seperate franchises include many existing clients in both North & South Auckland