The Leather Doctor is Australia's Largest Mobile Furniture repair network.
The Leather Doctor franchise has been operating for 28 years. Established in1989, we are Australia's largest mobile furniture repair network, with 62 franchises in operation across Australia (some of which have been operating for over 20 years with the same franchisee, and others which have come on as recently as a few months ago with young couples investing in the opportunity).
With a unique business model and an abundance of work for franchisees, The Leather Doctor network has rapidly grown both nationally, and also internationally into the United Arab Emirates and New Zealand.
We have engaged experts to join our team to develop customised systems, professional marketing material and finesse our exclusive repair and restoration training processes.
Leather Doctors generate work via both commercial and domestic/private streams. The commercial side of the business sees the franchisees service the leather and furniture repair needs of major national retailers such as Freedom Furniture, Harvey Norman, Super Amart and Fantastic Furniture just to name a few. Our Australian commercial system alone contributed over $4.5 million in sales to Franchisees last year alone.
The second stream of work is generated via private work that franchisees both directly source and which also come about as a result of repair work that is generated through our sister company (Care Cover).
The Leather Doctor's reputation in the Franchise community is exceptional. We were awarded as 'finalists' in the 2016 Franchise Council of Australia's National Franchise Awards, we have a brilliant support team, very little to no competition and a set of systems that are second to none.
If you are interested in finding out more, don't hesitate to contact us. There are a limited number of Franchises available for investment at the moment.
Why us
The Leather Doctor franchise has been operating for 28 years. Established in1989, we are Australia's largest mobile furniture repair network. With a unique business model and an abundance of work for franchisees, The Leather Doctor is a very attractive opportunity for those looking to operate their own business which has a proven track record of success.
Key Benefits for franchisees include:
Earn significant income – Pay off the cost of the franchise investment quickly
Enjoy a great lifestyle - You are in control of your work hours and your work load
Getting started is easy - Everything you need to operate is included in your purchase
No experience necessary - You receive 4 weeks of comprehensive training followed by ongoing head office support
Your customers are already waiting for you - commercial partners already have work for you and work is also delivered via our sister company, Care Cover
Low competition - Work is abundant and interesting
Kick Start Marketing Package – Ensures awareness of your business and helps generate work as soon as you come on board
Business Planning
In conjunction with the Sales Manager and senior top performing Franchisees, you will be able to create a comprehensive business plan.
Marketing Support - Kick start
Includes professionally designed advertising for social media, online advertising, brochures, radio, and print media. All marketing is completely customisable and can be focused to generate work for your territory from day 1.
Marketing Support - Ongoing
Digital marketing can be very effective in generating leads and brand awareness. You have access to the National Marketing Manager to collaboratively develop social and digital campaigns specific to your business - simply tell us who you want to target and the amount you want to spend and we look after the rest.
National Marketing and Branding
The Leather Doctor maintains a strong presence in the Franchise industry and are members of the Franchise Council of Australia. Our reputation in the industry is exceptional, and we were awarded 'finalist' in the National Franchise Awards in late 2016. We also have several key national commercial business partners that align themselves with us in brand affiliation.
Training - Kick Start
The kick start training program covers an array of amazing skill sets over 4 weeks. Approximately 2 of those weeks are spent in our custom built training facility where you learn exclusive leather and furniture repair skills and the other 2 weeks are spent on-the-job in your own territory with our expert trainers by your side. Following your comprehensive training, we continue to provide ongoing support, forums, conferences and workshops.
Real Opportunity
The Leather Doctor welcomes motivated individuals who have a willingness to learn. Our franchises are limited, so don't hesitate to enquire now.
Featured opportunities
28 days ago
The Leather Doctor
P.O.A
Franchise Resale
Top Franchisees Earn $150,000+ per year. Recoup investment quickly. Established territory. Comprehensive initial training and ongoing support. Enjoyable work, in high demand, with low competition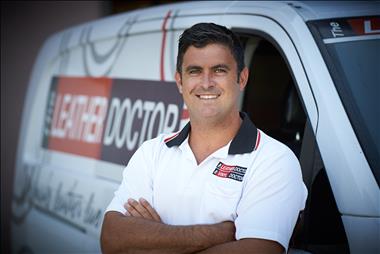 13 days ago
The Leather Doctor
P.O.A
Franchise Resale
Top Franchisees Earn $150,000+ per year. Recoup investment quickly. Established territory. Comprehensive initial training and ongoing support. Enjoyable work, in high demand, with low competition