Drug & Alcohol use is costing Australian businesses $5.2 Billion a year in hidden lost productivity & absenteeism.
Driven by this growing need in the workplace and community, The Drug Detection Agency (TDDA) is rapidly establishing itself as the largest and most dominant provider of workplace drug detection services in Australasia with a fast growing list of major corporate clients and brands.
We provide the following core services:
Drug & alcohol policy development
Drug & alcohol training & education programs
Mobile onsite drug & alcohol testing
Pre-employment drug testing
Property Methamphetamine inspections
TDDA offers its franchisees:
A comprehensive 100-day training program
High growth industry opportunity spanning all B2B sectors
Fast growing Brand & Network
Mobile (Van) format with Office & Testing room facilities
Large Territories with scope for expansion
With workplace drug screening becoming a necessity for most businesses for safety, legislative compliance & productivity reasons, this creates opportunities to win contracts with local, state and national businesses as well as various government organisations. You will also benefit from state office support and large scale clients that need services in your area.
TDDA requires highly motivated and independent people to join the team to share in the success of this proven business model which enables you to operate with multiple testing vans and staff and to have an office with testing room facilities.
There's no need to have previous experience in the drug testing field. You can start by yourself and quickly……
Why us
TDDA started with humble beginnings in NZ in 2005 and moved into the Australian market in 2012. The same systems and processes that had made NZ such a success were developed for the Australian market to ensure the best service offering for all clients, both at state level as well as nationally.
The rest, as they say, is history and today there are now multiple TDDA franchised business owners operating on both sides of the Tasman, ensuring that we are now an internationally recognised name as the complete solution provider in the drug- testing industry.
Kirk Hardy (company founder) is still the CEO of TDDA and, combined with a dedicated team, is the driving force behind all of the successes, driven through innovation and creativity. That same mindset has ensured that TDDA were the first in Australasia to offer a test for synthetic cannabis; were the first to the market with two unique drug detection mobile phone apps; and continue to offer the most innovative service to our clients.
TDDA is not about catching drug users. We are not about labeling or judging people. TDDA is all about ensuring safety in the workplace and the community. Our vision is to create drug-free environments and in the process ensuring the operator of the truck driving down our roads who passes the little girl on the bike is drug-free and safe.
The benefits of being a part of the TDDA team are numerous and include:
a 100-day training program to assist every new franchisee with the best start possible
access to state, national and international clients
being part of a team that has a strong focus on innovation and R&D
support from state based master franchisees
exclusive rights to geographically defined territories
TDDA is the complete solution provider for all corporate and private drug testing needs.
Featured opportunities
12 days ago
TDDA Australia
$65,000 - $95,000
Franchise New
The Drug Detection Agency is the dominant private provider of workplace drug & alcohol testing in Aust & NZ. We provide testing, training & policy development. Busn development support provided.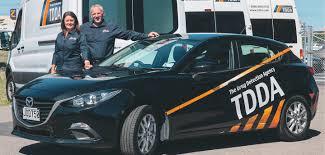 12 days ago
TDDA Australia
$130,000 - $160,000
Franchise New
The Drug Detection Agency is the #1 private provider of workplace drug & alcohol detection services in Aust & NZ. We provide testing, training & policy development. Busn development support provided.