Are you an accountant with motivation to be in public practice?
What's stopping you?
Perhaps you are:
With (or without) tax experience and not a registered tax agent, OR
A new or experienced tax agent seeking systems, branding benefits and support that a best practice organisation can offer to simplify practice life.
Accounting and Taxation Franchises with a difference:
Success Tax Professionals have been providing Accounting and Taxation franchises since 2003. There are over 76 franchises operating in our Success Tax Professionals network. Our franchises provide unique and unsurpassed continuous levels of support, training and business development.
Important benefits:
Unnecessary to be a tax agent to start your business.
Supervision and assistance compliant with Tax Practitioner Board requirements.
Ability to work towards achieving tax agent registration.
On-going technical support and training.
Access to work place tools and efficiencies to simplify practice life and promote growth.
Marketing of the brand.
Access to advertising concepts and guidance for business promotion.
Business coaching and expansion opportunities.
Long term 'working partnership' between franchisee and franchisor for mutual growth and benefits.
'Team environment' culture amongst franchisees with networking options.
Optional mentoring for CPA programme.
We don't compete with our franchisees:
We are dedicated to providing systems, support, training and business concepts to help our franchisees succeed. The Success Tax Professionals franchisor does not operate a practice in competition with franchisees and has no conflicting priorities. Our time is devoted to delivery of our franchising system and benefits.
Not a seasonal business:
Our franchises are for accountants wanting to build a true professional practice offering services to Individuals, Businesses and SMSFs.
The industry is estimated at over $18.7 Billion with substantial work opportunities. Success Tax Professionals franchisees, with support, are able to advertise for diverse forms of work, to facilitate business all year round.
Why us
About Success Tax Professionals:
Success Tax Professionals commenced offering Accounting and Taxation franchises in Western Australia in 2003. In 2010 we expanded the offer to include Victoria, and then in 2011 all other states.
We were approached on a regular basis by people interested in our franchise well before we offered franchises nationally. We however chose to thoroughly work with our franchise structure in WA only until we were satisfied our systems worked, obtained results and could be replicated.
Success Tax Professionals credibility:
We do not have conflicting priorities as we do not run a practice or other business which impacts on our time or availability.
Are registered tax agents and registered self managed superannuation fund auditors.
Are Fellows of the CPAs; plus members of the Franchise Council of Australia, Australian Institute of Directors and also the National Tax and Accountants Association.
We have passed recent CPA Australia reviews that assess our work standards against CPA criteria.
We have had our franchising structure – for example supervision of non-tax agent franchisees reviewed by the Tax Practitioners Board and have passed assessment.
We have fast turnaround time frames for providing technical support and managing franchisee matters – usually immediate or within two hours.
We are a best practices organisation and our intellectual property that our franchisees have access to is updated continuously allowing for use of streamlined work tools and documents.
Our training programmes are structured and cover diverse topics, true to our focus to help franchisees develop skills to take on all forms of work which is fundamental to securing year round work and especially higher paid forms of work.
Our business development programmes have successfully helped franchisees who are self-motivated to transition from home-based or mobile services to functional commercial office environments, including practice acquisitions.
We have a proven history of successfully developing accountants to tax agent status.
We have successfully mentored accountants through the CPA Programme.
Featured opportunities
17 days ago
Success Tax Professionals
Perth (WA), Australia, Metro & Country, National |
Perth
$0 - $15,000
Franchise New
$0 - $15k (LOAN OPTION AVAILABLE). Non-tax & tax agents. Tax experience isn't essential if you're learning focussed and driven to grow a non-seasonal practice with our support or fast-track options.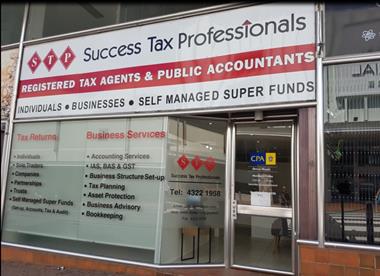 17 days ago
Success Tax Professionals
Sydney (NSW), Australia, Metro-Country, National |
Sydney
$0 - $15,000
Franchise New
$0 - $15k (LOAN OPTION AVAILABLE). Non-tax & tax agents. Tax experience isn't essential if you're learning focussed and driven to grow a non-seasonal practice with our support or fast-track options.