Snap is the most successful print, design and website franchise network for small and medium-sized enterprises (SMEs) in the Southern Hemisphere, with 150 Centres in Australia and a further 30 Centres in New Zealand, Ireland and China.
Some facts you should know about us:
We have 150 Australian locations
We service over 500,000 business customers annually
We turn over more than $120 million dollars per annum
We're the most recognised print, design and website brand in Australia
We have been evolving for over 100 years
Benefits of joining Snap
One of Australia's leading print, design and websites brand
Proven franchise model
Access to large supplier base
Dedicated territory
Sales incentive trips, national franchisee conventions and sales awards to recognise high sales achievers
Strong support with business establishment, sales, operations, IT, induction and ongoing training, branding and local area marketing
Create a saleable asset
Embracing Technology
Snap Centres handle a wide variety of print, design and website work for their corporate client base every day.
Consumers are increasingly choosing to receive information online in addition to print, and SMEs have modified their marketing strategy and marketing material requirements accordingly.
Many SMEs now run integrated campaigns, reaching their customers via both print and online.
Snap was quick to spot this trend and diversify its product range, offering website design and online marketing services in addition to traditional print and design.
Client focussed business
The type of person who is successful as a Snap Franchisee is someone who:
Is driven and client-focussed
Is technologically-savvy
Has a real desire to help SMEs succeed
Enjoys working for themselves and securing the financial rewards that come from having a successful business.
Does this sound like you?
"I want to be my own boss."
"I'm positive and motivated."
"I can manage myself and others."
"I'm capable of running my own business."
"I love sales and dealing with people."
The key to Snap's enduring success is that we are "good people to work with". Quite simply, people are important at Snap. Caring about people, whether it's our Franchisees, our Suppliers, our employees or our Group's SME clients, is at the heart of our business.
If you agree with the above statements, joining Snap could be the right move for you.
Featured opportunities
2 days ago
Snap Franchising Limited
$275,000
Franchise Resale
Owning a Snap franchise brings many rewards, including a balanced lifestyle and promotes a great return on investment.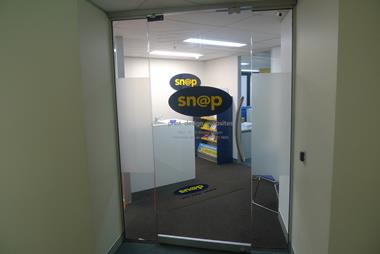 1 day ago
Snap Franchising Limited
$210,000
Franchise Resale
Snap Cairns provides a unique opportunity as being the furthest North Snap in Australia. Growth potential is in abundance with this territory, possessing very limited competitors.