Skewerz Kebabz is an exciting and innovative retail fast food concept offering authentic Mediterranean cuisine combined with fresh and exciting flavour profiles for the Australian Market. Spicing up food courts in shopping centres around Australia, Skewerz is becoming the nation's fastest growing kebab franchise.
Skewerz Kebabz was founded in Western Australia in 2010 and already has a loyal fan base and recognisable retail presence in this region. There are currently nine stores located throughout Western Australia and one store located in Townsville, Queensland.
At Skewerz, the classic kebab store has been given a refreshing makeover. Because of its simplicity and speed of preparation the kebab has long been embraced as a robust business opportunity in the fast food market. From an operational perspective, the kebab is arguably one of the most streamlined and efficient forms of fast food, providing the basis of a very profitable business model.
The traditional kebab is a key feature on the Skewerz menu but it is accompanied by its new items such as skewered kebabs, grillers and gyroz which are all inspired by flavours from Greece, Turkey and the wider Mediterranean regions. Cuisine from this part of the world is famously fresh and vibrant and this is translated in the menu, store designs, branding and the vibrant atmosphere in store.
Why us
Skewerz Kebabz is part of the Aktiv Brands group.
Aktiv Brands is a leading Australian retail food brand developer and manager. As part Aktiv Brands, Skewerz Kebabz franchisees benefit from a carefully researched, strong brand image, comprehensive training and support with ongoing assistance in sales techniques, local store marketing, cost control, purchasing and financial management.
Experience the freedom of owning your own business with the security and support of an established and profitable franchise system.
As part of your extensive training, you will learn:
How to deliver high product quality at low cost
How to recruit 12 key performance indicators to teak and grow your profits
Merchandising secrets to maximise your sales
How to keep your customers delighted and fiercely loyal
Featured opportunities
14 days ago
Skewerz Kebabz
P.O.A
Franchise Resale
Born and bred in Western Australia, Skewerz Kebabz is now expanding. We are now looking to match the exclusive New South Wales territory with an experienced, business savvy Master Franchisee.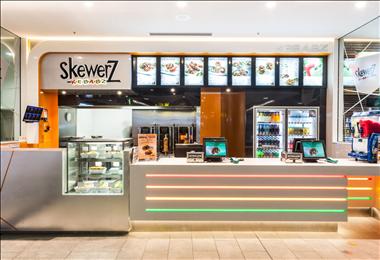 14 days ago
Skewerz Kebabz
$275,000
Franchise New
NEW STORE | NEW 5 YEAR LEASE Born and bred in Western Australia, there is now a rare opportunity to secure your own kebab takeaway in the food court in the newly redeveloped Mandurah Forum.