Established in 1936 and purchased by the Bellchambers family in 1975, Shingle Inn Cafés & Bakery has been owned by only two families during its 80 year history, enabling the business to retain the quality and unique character which has made it famous amongst several generations.
Today, the business is run by brothers Peter and Andrew Bellchambers and an experienced team of personnel who embrace the strong 'family' culture, tradition and outstanding customer service on which the business's enduring reputation was built.
Each member of Shingle Inn's management team brings a unique set of skills and experience to their varied roles, assisting each store to operate to its fullest potential.

Shingle Inn is able to maintain continuity and innovation in our product offering through the provision of our range of superior quality products from the company's East Brisbane centralised baking facility. Our pastry chefs and bakers have more than 100 years of experience between them, many with 20+ years experience specifically baking some of Shingle Inn's most popular products.

We don't rest on our laurels though and take the development of new and innovative products very seriously. Our constant focus on product development enables us to offer customers new products relevant to changing trends whilst always maintaining the superior quality for which we are renowned.

Product supply from our own central bakery also ensures we can quickly and easily implement new products and ensures we're able to offer a product range that is unique and won't be found in every competing café.

Coffee is a large and very important part of Shingle Inn's business. As such, you and your team will be trained to offer the highest standard of coffee service.

Shingle Inn offers its own blend of coffee and has a constant focus on improvement in this area of the business with a particular focus on dedicated in-store baristas to ensure we produce exceptional coffees on every occasion.
Why us
Shingle Inn is unsurpassed in today's café culture for a number of reasons;


brand: our strong and iconic brand has a unique identity within the café market,
systems and support: our long history and reputable store network is evidence of our established support and systems,
products: our superior quality products and delicious coffee made by trained baristas is unrivalled,
family culture: our ongoing commitment to exceeding customers expectations in-store extends to the relationships we like to cultivate with all our stakeholders.
Few cafés start out steeped in as much history as Shingle Inn. Our heritage provides an outstanding foundation on which to build a strong network of franchises committed to our core brand values of
innovation
embracing tradition
family culture
superior quality
brand belief
exceeding customers' expectations
environmentally proactive and
financial success.
Our brand is exceptionally well-known in South East Queensland and the marketing activities currently in place, including radio, print advertising and in-store promotions, will ensure increasing brand recognition as the network expands.

Part of what makes our brand unique is Shingle Inn's dedication to creating an environment indicative of the quality and originality of our products in which our customers can indulge.

Shingle Inn has two formats: café/ restaurant and cafe.

The café/ restaurant format is generally a larger footprint, in a high-street location, is licensed and is open longer hours to take full advantage of the opportunity for additional trade.

The café format is generally found in suburban shopping centres, is unlicensed and can be either in a shop-front format or more open as a kiosk style with designated seating area for between 60-80 people.

Regardless of the format, our fitouts include the use of luxurious furnishings, high backed chairs, beautiful lamps and in many stores private booths that are very popular with customers.

Our aim is to provide an environment in which customers can truly relax and embrace the quintessential Shingle Inn experience.
Featured opportunities
2 days ago
Shingle Inn Cafe
$290,000 - $430,000
Franchise New
Shingle Inn Cafe -unique products, great coffee & real support! Join our expanding network of shops, to realise your own cafe business dreams!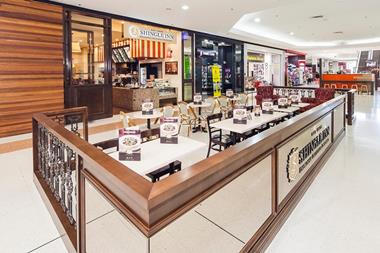 2 days ago
Shingle Inn Cafe
$290,000 - $430,000
Franchise New
Shingle Inn Cafe -unique products, great coffee & real support! Join our expanding network of shops, to realise your own cafe business dreams!