Workplace safety is not a luxury – it's the law and SafetyQuip is a market leader in the national B2B distribution of workplace safety products and services.


One Stop Safety Shop
We offer much more than just hard hats and safety boots.

SafetyQuip's product offering includes a huge range of personal protective equipment, products like protective clothing, respirators, welding masks, cut resistant gloves, height safety harnesses and site safety products.
But I Don't Have A Background In Safety!
Don't worry. SafetyQuip's franchisee training is comprehensive and on-going. It prepares you to approach your customers with confidence. You have direct access to the National Support Team who will provide answers to questions on every aspect of your business – including technical safety advice. You also have 24/7 access to a library of training modules with new modules being added and updated to reflect changes in legislation and trends in the marketplace.


Start Small – Grow Big
Structure your SafetyQuip business using one of our flexible start-up models.

Start affordably with a single fully-stocked Mercedes Sprinter sales van then expand to a permanent base of operations - a trade shop - within 12 months. Or if you have the capabilities, and ambition, you may choose to develop your mobile and trade shop business in tandem.

Whatever start-up model you choose you have the option of further expanding your business within your generous geographic territory by putting more sales vans on the road and/or extending your reach with multiple satellite shops with additional mobile reach around them. And best of all you can do so without paying an additional franchisee fee.


Join The Team That Makes A Real Difference!
SafetyQuip franchisees go to work each day knowing that what they do, the products they sell, and the advice they give may make the difference between a safe outcome in a workplace incident and a sad statistic.
Why us
In The Beginning
The first SafetyQuip opened its doors on Queensland's Sunshine Coast in 1992. SafetyQuip's founder, Gary Shearer, spent the next 10 years developing and perfecting the SafetyQuip business model, building solid relationships with leading manufacturers and wholesalers, and establishing SafetyQuip's reputation as the business to turn to for expert safety advice, unrivalled customer support and top-brand safety products. By 2002 SafetyQuip was ready to expand with its first franchise in Slacks Creek Brisbane. Since then SafetyQuip has grown to include a national network of 15 branch locations in all mainland states.
Why Choose Safetyquip
Affordable entry into a system with excellent earning potential: Choose from three start-up models depending on your budget: Mobile, Blind-Shop + Mobile, Full Shop + Mobile
Business-to-business franchise model with a family-friendly lifestyle: SafetyQuip's B2B franchise structure allows you to maintain regular business hours and have weekends and public holidays off.
Purpose-built business management software: Maintain a competitive edge with our total business management application software.
Defined geographic territory in which to operate and expand: Our staged growth plan allows you to operate multiple sales vans and safety centres within your territory without paying additional franchisee fees.
Recession-resistant product range: Safety products and services are always in demand - even during economic downturns.
A business you can be proud of: SafetyQuip franchisees are welcome, well-respected members of their local communities and SafetyQuip is a proud and long-standing member of the Franchise Council of Australia.
Marketing Support: Secure e-commerce web site, Product and Services catalogue, quarterly national marketing flyers, national product launch flyers, professional in-house design of local and regional marketing initiatives, safety advisories, supplier support for sales and marketing initiatives.
What We Look For In A Franchisee
SafetyQuip franchisees are business-builders who happen to be in the safety industry – employing the skills needed to run any small business. We look for people who are…
Self-motivated and results driven
Outgoing and personable
Confident in their sales and customer service skills
Comfortable managing people
Hands-on managers
The SafetyQuip franchise model is designed for 2-person operation at business startup.
Featured opportunities
2 days ago
SafetyQuip
$314,000 - $564,000
Franchise New
Become a workplace safety product specialist. We give you extensive training and support to start building an exciting new career in workplace safety.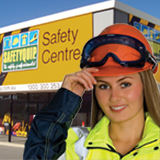 2 days ago
SafetyQuip
$314,000 - $564,000
Franchise New
Become a workplace safety product specialist. We give you extensive training and support to start building an exciting new career in workplace safety.