Be in business for yourself…but not by yourself.
With one of Australia's most recognised brand identities and a well-established franchise support network, Red Rooster offers exciting business opportunities for the right candidates. If you are a committed go-getter with bags of energy and a flair for business, you could join the numerous Red Rooster Franchisees who have already built their own business through our network.
Australia's Favourite Chicken
Red Rooster is an Australian icon, born in 1972 and still growing today. When you are granted a Red Rooster franchise, you're not just buying a restaurant; you are buying a powerful brand, built over 30 years. It's a brand that Australia trusts, day in day out.
Many other brands and product categories have come and gone. Red Rooster continues to grow incrementally, year in year out.
About Us
With over 350 stores nationwide, serving over 15 million chickens a year, we are one of Australia's most popular fast-food outlets. You'll find us in cities and suburbs, on freeways and in food-halls. Red Rooster is a true Australian icon brand. It continues to evolve, as our nation's tastes and preferences change.
Our wide customer base gives Red Rooster an ideal business platform on which to grow.. We serve drive through, dine-in and take-out meals for office workers, building contractors, students, retirees, families…pretty much anyone with a taste for our roast chicken.
Why us
Although our whole and portioned chickens are the icons of our brand, we put a lot of energy into developing innovative new products to meet the demand of an increasingly adventurous public.
In addition to our famous oven roasted chickens, we serve strip subs, wraps, burgers and of course, our famous chips. We also offer a range of popular drink products from partners like Coca Cola and Berri. One of the strengths of Red Rooster is our Little Red Rooster Meal. Our strong relationships with cutting edge children's entertainment brands such as Dreamworks, SKG, Warner Brothers and Hasbro enable us to offer exciting promotions regularly and sell thousands of meals every week.
Another feature of Red Rooster is constant product innovation, designed to enhance the core menu offering, attract new customers and evolve our product range.
We're right behind you
You've seen the branded restaurants, watched the TV commercials and listened to the radio promotions. We believe in consistency and invest constantly in advertising and marketing. Not only will you benefit from the excitement created by our advertising campaigns, you'll be supplied with everything you need to create the complete Red Rooster brand experience in your own restaurant. Like our chicken, it's a very successful recipe.
Featured opportunities
1 day ago
Red Rooster
$350,000 - $430,000
Franchise New
Red Rooster are launching into Tasmania... first locations will be in Hobart!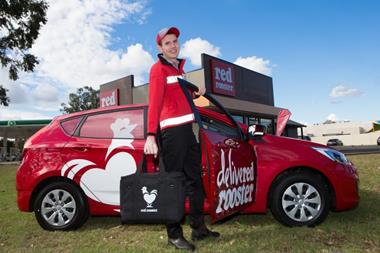 14 hours ago
Red Rooster
P.O.A
Franchise Resale
Location Location Location : 31,000 vehicles passing every day and access to nearly 60,000 residents!