Here at Pizza Capers, our product is our passion. Nowhere in the industry will you find a menu as thoughtfully developed. Our ingredients are rigorously monitored and taste tested. As a result of our huge passion for all things pizza, we've created a menu that simply cannot be matched by our competitors in terms of quality, taste and variety.
The breadth of our menu, which includes gourmet pizzas, pastas, salads, breads and gelato, allows us something to tempt the taste buds of each and every member of the family.
All the ingredients on the Pizza Capers menu are individually sourced to ensure they are the absolute highest quality, regardless of geographical barriers. Our luscious lamb, beautiful Black Angus beef and bounteous blue vein cheese hail from Tasmania, our magnificent mozzarella comes from across the ditch in NZ. Our dough is made on site using fresh yeast, our Aioli is made using real fresh eggs, we roast our own vine ripened tomatoes – we could go on and on. Some might call this extravagant, we call it absolutely necessary, which helps us ensure our customers enjoy the most delicious meal possible, every single time they visit.
Today's gourmet pizza lovers don't just care about their taste buds, they're also mindful of their health. So, with this in mind all our mouth-watering ingredients are served on 98% fat free bases or gluten free pizza bases.
Why us
Pizza Capers is part of the Retail Food Group and we at Retail Food Group believe that our systems are the most respected and successful systems in Australasia, remaining unsurpassed in terms of being fully-integrated franchise systems, all offering quality products and market leadership in each of the brands' target markets. We credit this to the ongoing dedication and loyalty of our franchisees, whose businesses are supported by a franchisor that provides business education, marketing and operational systems as well as ongoing support systems
Featured opportunities
2 days ago
Pizza Capers
P.O.A
Franchise Resale
Low cost of entry! Talk to us today to take advantage of a tailored purchase package to suit your needs and to be our own boss! All training provided for this rewarding QLD company-operated franchise.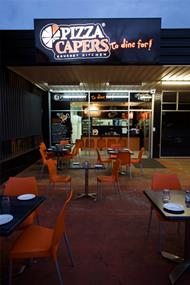 2 days ago
Pizza Capers
P.O.A
Franchise Resale
Dream of being your own boss? We're looking for passionate people with a love for life to join our family! All training provided. Enquire today for more info about this rewarding WA store!