In 1986 Oporto Founder Antonio Cerqueira brought much more than just his accent to Australia's shores.
Special recipes, secret sauces, traditional Portuguese cooking methods… Oporto's Founder Antonio Cerqueira brought much more to Australia than just his accent, but he wasn't about to reveal the secrets of his unique, traditional chilli sauce to a soul! Instead, he opened his first Portuguese-style chicken restaurant on Sydney's famous Bondi Beach in 1986, stunning the locals' taste-buds and quickly gaining an ever-growing army of fans.
That first splash of Antonio's now legendary, almost addictive sauce has grown into a wave of great taste that now satisfies over 15 million people a year.
Antonio's strict insistence on the highest standards of freshness and quality, his secret sauces and the genuinely relaxed, friendly atmosphere you'd expect of a wholly-owned Aussie company combine to make Oporto's fresh-not-frozen, grilled-not-fried chicken deliciously… irresistible!
Oporto has developed into a strong player within the quick service restaurant market over the past 2 decades and this growth is set to continue. With a well-developed, tried and tested system and the assistance of a large, well-resourced team Oporto presents an excellent opportunity for franchisees that do not have experience in the food sector.
With over 140 stores across Australia and New Zealand, Oporto has come a long way from the days of its first store in the Sydney beachside suburb of Bondi, but we've never forgotten our heritage of high quality, great tasting, authentic fresh-grilled chicken and burgers and our unique Australian culture.
Why us
At Oporto, we're always on the lookout for motivated people to join our existing franchisee team, and share in our growing success within the dynamic fast food industry.
We're constantly reviewing new site opportunities, and can offer a number of exciting store formats including food courts, street fronts and drive thru locations throughout Australia. Our leasing department is always reviewing locations and sites all over the country to find the right store. They will assist in negotiations with the Landlord, builders and designers to make sure that your store meets the high standard that Oporto requires.

Before opening day you will liaise with the marketing team to develop a local marketing strategy to drive business to your store from day one.

Oporto boasts an award winning training program for franchisees, managers and staff that along with a dedicated training team ensure that all new franchisees open their stores with all the relevant knowledge and confidence.

When you join Oporto you will have the support from our operational team which is motivated to see you succeed, and help you grow your business.

Oporto franchisees embody the brand and culture of Oporto. They should be spirited, youthful and high energy individuals. Oporto is very passionate about food, customer service and growing the brand and expects all their franchisees to share that passion and drive in their stores.

We welcome your interest in joining the Oporto family and look forward to exploring this exciting opportunity with you in greater detail.
Featured opportunities
21 hours ago
Oporto
$350,000 - $450,000
Franchise New
Submit your Expression of Interest for Melbourne Restaurants Now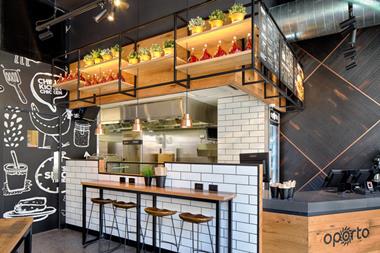 21 hours ago
Oporto
$350,000 - $450,000
Franchise New
Oporto is Growing its Network in WA