Reap The Benefits of Business Ownership
Are you sick of working hard only to see someone else reap the rewards?
Most people work their entire life and never attain financial freedom.
Owning a business with Kleenit will give you the freedom to live the life you've always dreamed of.
Owning a business with Kleenit
At Kleenit our start-up process is simple and fast, whilst also ensuring you're fully informed throughout and completely equipped to successfully manage your business once everything is in place.
Total support
We've grown steadily since our franchise model launch in 2006 and are now a market leader, delivering superior buying power and enterprise goodwill to each and every one of our franchisees.
We support and champion our franchisees at every stage, providing vehicles and tools, comprehensive technical, business, industry and management training, as well as ongoing assistance such as certified business leads.
Boundless income potential
With a low initial investment, high profit margins, and guaranteed minimum first year earnings of $75,000, we really make sure the odds are stacked in your favour.
Our clever business architecture also promotes greater returns through multiple income streams. This advantageous design sees established franchisees earning average yearly incomes of $230,000, with our top earners making up to $800,000 per year from a range of valuable market segments.
As part of our current expansion, each new franchisee receives a dedicated territory with identified demand. Together with valuable leads and all the tools you need for success, there's no better way to become a business owner, right now.
Business your way
Whatever your dreams for your business, at Kleenit we'll help you achieve them. Our goal is to help you succeed by providing established and efficient systems and support that reduce operating burdens, so you can concentrate on reaching the milestones that allow you to grow your team and maximise your income.
Why us
Since opening for business in 1987, Kleenit has become an industry heavyweight, with 40 thriving franchises operating Australia-wide, and an annual turnover of $10 million.
Our Services
Kleenit's multiple product and service offerings cater to a range of distinct and diverse markets, and deliver far greater earning potential than single product or service franchise models. As a Kleenit business owner, your clients can include everyone from local government, to successful tender operators for major infrastructure projects, to commercial operations and the construction industry.
We provide:
Anti-graffiti coatings
Industrial floor painting
Concrete polishing and refinishing
External building cleaning and painting
Factory floor cleaning and coatings
Fire (smoke) damage repair
Carpark line markings and wheel stops
OHS line markings
Graffiti management program
Graffiti removal
Pavement cleaning and sealing
Roof and gutter cleaning
Our diverse market segments
Construction
Washing and painting for refurbishment of existing buildings, anti-graffiti coatings, grinding and finishing of concrete slabs, carpark line marking and wheel stops for shopping centres and new buildings.
Major Infrastructure
Anti-graffiti coatings and removal for new projects including bridges and roadside acoustic walls, transport infrastructure including train lines and main roads.
Industrial / Commercial
Pressure cleaning of factory floors, exterior building washing (factories, hotels, fuel stations, shopping centres), and the application of floor coatings to warehouses, and anti-graffiti coatings to commercial structures.
Government
Graffiti removal for councils and state government which often includes high pressure cleaning of frequently use paved areas such as parks and foreshores. Can include high pressure cleaning of council buildings, schools, BBQ areas, boat ramps, railways and anti-graffiti coatings to bridges and other assets.
Domestic
High pressure cleaning of driveways, pools and surrounds, patios and decking, as well as roof gutter and house washing, and the application for salaries and coloured paints to driveways, concreate areas and garage floors.
Featured opportunities
2 days ago
Kleenit Pty Ltd
$60,000
Franchise New
Being a Kleenit Business Owner would suit Tradies, Handyman and maintenance guys looking to start a hand-ons franchise. 1st year income guaranteed.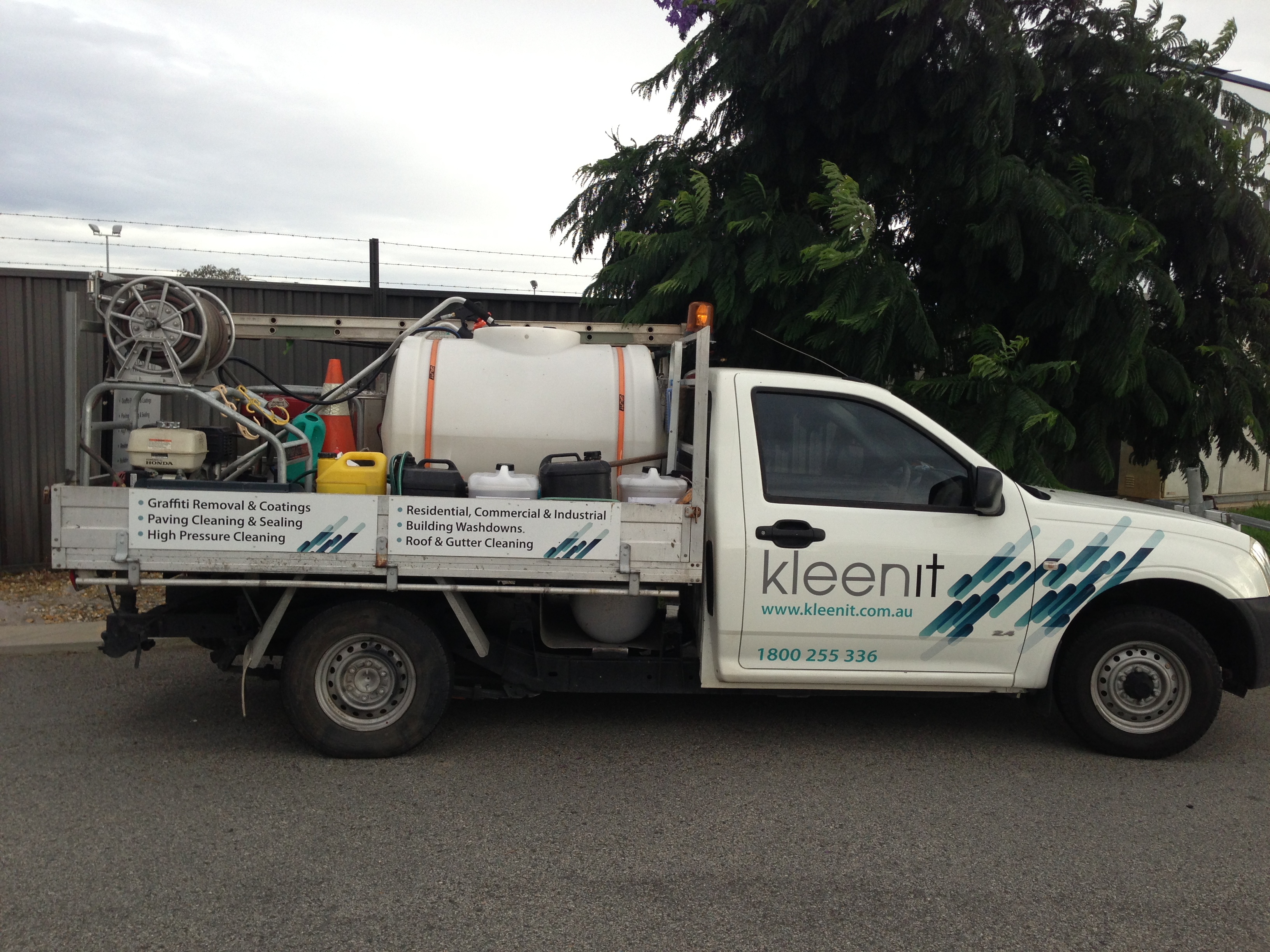 2 days ago
Kleenit Pty Ltd
$60,000
Franchise Resale
Kleenits WA Franchises have all been sold since 2013. This is your chance to join our team with a low investment and high returns.