If you want to choose your hours, create limitless income potential and enjoy the great outdoors, become a Flower Power Garden Care franchisee, backed by Flower Power - Australia's largest retail garden centre business.
Freedom & flexibility
When you choose a Flower Power Garden Care franchise, you're entering into a lifestyle that allows you to work when you want in a territory you choose. Spend less time commuting and more time with family and friends. Put in the hard yakka one day and knock off early the next. It's up to you.
More than just mowing
As a Flower Power Garden Care franchisee, you offer your clients a complete gardening service - from garden maintenance, planting and irrigation to entire garden makeovers. Flower Power is a trusted retail brand and each week hundreds of customers visiting our stores want to know how they can take advantage of the great service we provide instore, around their home.
Grow without limit
Enjoy limitless income potential. A turnover of over $100,000 is a realistic goal but many of our established franchisees make up to $250,000 a year. With no restrictions on the number of employees or vehicles you can have, you can grow without limit. We also offer a genuine 8-week income guarantee period on commencement, which you can take advantage of to help you focus on building your business in a measured manner.
No experience necessary
From finance and manufacturing to the service industry, our franchisees have come from all walks of life and made the tree change. But they all have one thing in common: a can-do attitude, a willingness to learn and a desire to take control of their work and life.
Work close to home
We offer a range of territories in the Sydney metro area, all with ample room for you to grow your business.
Low entry cost
A low start-up cost of $24,000 plus $4,000 - $6,000 for your trailer and equipment (depending on trailer size) will give you everything you need to start your business. We don't charge for leads or a percentage of your turnover. Instead we offer a flat-rate monthly service fee, giving you the security of fixed costs, leaving you free to go about growing your business.
Why us
With 10 Flower Power garden centres across Sydney, you're never too far from great products and advice. As a Flower Power franchisee, you're given preferential service, delivery and pricing across all stores. This equals minimal downtime and the opportunity to make a margin on products over and above the labour costs billed to your clients. In addition, you have direct access to a fantastic support network of qualified landscapers, garden designers and horticulturalists.
It can be daunting going into a business on your own but we are with you every step of the way. In your first few months, we'll work closely with you. Even as your business grows, we're only a phone call away for guidance and support. Unlike many other franchises, we also provide hands-on support. If you need a hand on a job, we'll be there with our sleeves rolled up ready to help, because your success is our success.
Featured opportunities
21 hours ago
Flower Power Professional Garden Care
$24,000 - $33,000
Franchise New
Flower Power Garden Care Franchisees enjoy a unique edge in the gardening services sector. They are backed by Australia's largest Garden Centre chain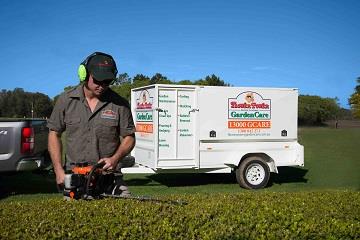 21 hours ago
Flower Power Professional Garden Care
$24,000 - $33,000
Franchise New
If you want to choose your hours, create limitless income potential and strike the perfect work/life balance, become a Flower Power Garden Care franchisee