Fastway Couriers has been operating for over 30 years and is recognised as a market leader in the courier industry. With 27 regional franchises and 800 Courier Franchisees across Australia, we can help you achieve your dream of being your own boss.
Established in 1983 in Napier in New Zealand, Fastway Couriers is now a globally franchised courier company with a presence in New Zealand, Australia, Ireland and South Africa.
We have a unique and customer centric approach to courier services:
Cost effective and reliable
Supported by latest technologies
Ideal choice for consumers and businesses of all sizes
Fastway in Australia
Our operations in Australia began in 1993 and we've grown to become a national network with Courier Franchisees across the country, from Cairns to Perth. Our commitment is to delight our customers at every point in their parcel's journey, which isn't possible without our dedicated Courier Franchisees. They're local business owners who are passionate about their job and we consider as our competitive advantage.
In 2016 Fastway Australia became part of the Aramex family, a leading global provider of comprehensive logistics and transportation solutions operating in over 354 locations across 60 countries. Through this acquisition, both Aramex and Fastway have become stronger together, with Fastway customers continuing to receive our personalised service whilst benefitting from Aramex's global expertise and innovative technologies.
With the backing of a large global network, we're currently expanding and are looking for Courier Franchisees to join the Fastway family. As our partners in success, our network offers ongoing support and development in operations, sales, and marketing to help our Courier Franchisees reach their business potential.
Why us
Our mission at Fastway is to delight the customer at the door. To do this, we need a capable team of Courier Franchisees who we consider as the pillars of our business.
A Fastway franchise is the perfect entry-level business opportunity and you'll enjoy many benefits including:
• Low start up costs
• Guaranteed income package (conditions apply)
• No weekend work
• Exclusive territories
• Unparalleled business support and training
• A perpetual franchise agreement
• Highly recognised brand
• Easy to operate - no experience required
Why partner with Fastway?
Training
As a Fastway Courier Franchisee, your investment includes a comprehensive three-week training period, plus ongoing support from the Fastway team. Training is provided by the Regional Franchisee including field training to help familiarise you with the policies and procedures. You'll also be introduced to other Courier Franchisees and contract drivers within your regional franchise.
Marketing and Sales support
When you purchase a Fastway Couriers franchise, you also purchase the Fastway brand image that's recognised beyond your exclusive territory, right across the rest of the Fastway network.
Having your business backed by a recognised brand like Fastway will give you added credibility. Together with the assistance in sales and marketing from your Regional Franchisee and the Franchise Support Office, we'll be able to help you grow your business grow.
Finance
To successfully run a Fastway territory, you'll require a white van. We know this can be a big investment so we've secured some fantastic fleet deals on new vans with our supplier. Our dedicated finance staff will provide you with exclusive products and rates for vehicle and franchise purchase.
Awards
2015
International Franchisor of the year
Franchise Council Australia Excellence in Franchising awards
2012
NAB Franchise Council of Australia Awards
Excellence in Marketing Award
2009
Franchise Council of Australia Awards
Field Manager of the Year NSW / ACT
2009
Yum Restaurants International Supplier Awards
Fastway Courier Franchisee, Sydney, Outstanding Contribution to Yum Restaurants International
2003
Franchising Hall of Fame Australia
Fastway Chairman inducted
2002
Franchise Council of Australia Awards
Australian Franchise System of the Year 2001/2002
2000
Business Review Weekly 2000
Top 100 Fastest Growing Private Companies in Australia
Featured opportunities
29 days ago
Fastway Couriers
P.O.A
Franchise Resale
Fastway Couriers Brisbane have exciting courier franchise opportunities for friendly and hard-working couriers wishing to own and operate a business.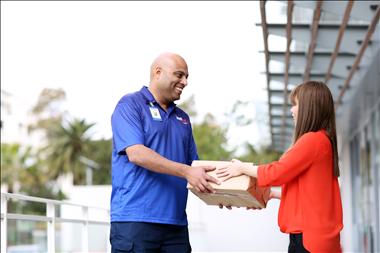 19 days ago
Fastway Couriers
$25,000
Franchise Resale
Fastway Couriers Bendigo have some exclusive opportunities for a Courier Franchisee to own an exclusive business in various territories.