Crust Gourmet Pizza has created a niche by focusing on quality – from the ingredients used through to the delivery service, filling the 'authentic gourmet gap' in the Australian pizza industry.
First firing up its ovens in Annandale, Sydney in 2001 Crust has since transformed pizza from simple fast food to an authentic culinary experience. Crust now has over 140 stores throughout Australia, New Zealand, Singapore and America.
The Crust Gourmet Pizza Bar food service offering is ideally suited to today's fast-paced lifestyle. Our vision is to grow slowly and surely, to build a solid foundation based on excellence in service, which will ensure we continue to thrive for years to come.
We're very serious about choosing the right people to build our brand. If you've got the passion, determination and guts needed to run a successful business, we'd love to hear from you.
Here's a guide to the kind of people we're looking for:
Entrepreneurial and with an appetite for success
Business minded with great people skills and financial acumen
Willing to commit fully to a new business venture
Keen to actively promote and market your Crust Gourmet Pizza Bar
Willing to devote the necessary time and effort
Financially secure
Willing to take advice and direction to achieve the Crust Gourmet Pizza Vision
Why us
A successful business model.
Crust invests heavily in demographic and geospatial analysis to identify key areas, which have the business drivers that will allow our franchisees to maximise sales. Then we assist with the site selection and the lease negotiations. Every franchisee is awarded an exclusive Crust Gourmet Pizza Bar territory, which takes into account population and household growth, demographics, the proximity of competitors, delivery and drive time analysis.
All new franchisees undergo a six-week induction where they're taught to create award-winning pizza. We'll also provide close-support through the first weeks of opening and will help train staff, assist in day-to-day running of the shop and ensure every aspect of the store is running smoothly.
We prime the market before a Crust Gourmet Pizza Bar opens in a new territory by advertising locally so that by the time the store opens, the locals are ready and waiting.
Franchisees also receive four weeks training in our head office training academy, followed by two weeks training after opening in your own store
Featured opportunities
21 days ago
Crust Gourmet Pizza
$375,000 - $450,000
Franchise New
Dreamt of being your own boss? We're looking for passionate people with a love for life to join our Crust family. Enquire today for more info on this exciting new QLD opportunity!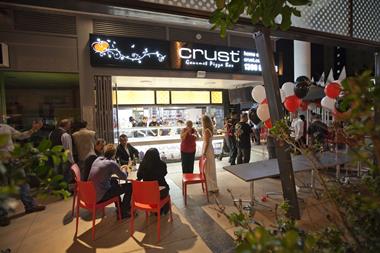 15 days ago
Crust Gourmet Pizza
P.O.A
Franchise Resale
Crust Gourmet Pizza Franchise is a fast-growing pizza chain & a highly regarded brand. We are now looking for passionate people to join our family at North Lakes Central. Enquire today!