Computer Troubleshooters is Australia's & the World's largest IT Support franchise network, we have the scale & experience to help your business provide IT services to businesses & homes. We provide a complete package in a low-overhead structure, with access to a whole range of Franchise Owner benefits.
Computer Troubleshooters provides this opportunity for business freedom with the support, methodologies, and camaraderie of a well established proven franchise structure.
Our franchise success is based on helping you create the business that best suits your skills, experience and desires. Our market is to provide onsite IT support to Businesses and Home Offices and it all starts with the quality of our franchisees, the level of our support (both technical & operational), and branding.
Increasingly we are supporting businesses in the cloud with remote and on site services that allow us to setup, migrate, manage & administer on an ongoing basis as a managed service. Microsoft Office 365 is becoming an increasingly popular alternative for businesses and is a great fit for Computer Troubleshooters as an expert outsource IT provider.
We also have a hosted exchange platform that we can resell along with virtual servers and other cloud services. Many of our Franchise Owners have strong IT backgrounds in corporate environments or have a passion for IT and are looking for a challenging Small Business as an alternative for lifestyle, financial, and personal development reasons.
Building your IT business within our franchise framework reduces startup time, decreases the risk of failure, & allows you to benefit from the scale & experience of a large group who share and support each other on a daily basis.We aim to become the Trusted IT Advisor to Small BusinessOur franchise offers all the components for a successful managed services business from our hosted Kaseya plaform, Autotask, to the extensive marketing materials, documentation, online training, & resource base.
If you would like to be in the IT Support Business with support from Australia's largest IT support franchise network then submit an Information Request or visit our website www.computertroubleshooters.com.au
We will send you a no obligation information kit by email with more details of our offering.We look forward to hearing from you and helping us achieve our brand promise of "Technology Solved".
Featured opportunities
8 days ago
Computer Troubleshooters
$22,700
Franchise New
Join the Worlds largest IT Support Franchise Network - Growth Market - Market Leader - 19 Years Experience - Low Cost Start Up & Low Fees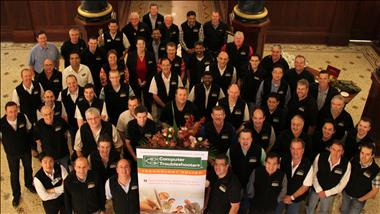 11 days ago
Computer Troubleshooters
$22,700
Franchise New
Join the Worlds largest IT Support Franchise Network - Growth Market - Market Leader - 19 Years Experience - Low Cost Start Up & Low Fees