The CIBO Espresso concept was created from a passion and a yearning to bring a little slice of Italy to our shores.
Our founders identified that authentic Italian espresso bar culture was almost non-existent in Australia and opened the first CIBO Espresso in Adelaide's Rundle Street in 2000. Their mission was to service authentic Italian coffee with traditional offerings, all served in an ambient, charming atmosphere.
Known for being Australia's first premium Italian coffee chain, CIBO Espresso continues to echo the style and passion of Italian life. It was this passion that attracted Retail Zoo Pty Ltd (the holding company of Australian brands, Boost Juice and Salsas) to acquire CIBO Espresso in 2012.
Retail Zoo and CIBO Espresso have now opened 32 stores across South Australia, New South Wales and Victoria with large expansion plans underway. In 2016, CIBO Espresso recruited one of the world's best specialist chefs to implement its most ambitious menu change since its inception. With a refined focus on handmade, artisan products and locally sourced ingredients, the new menu now features over 60 new dishes.
CIBO Espresso aims to deliver a premium, boutique experience consistently in all its stores, making it the nationally-recognised and loved brand that it is. The brand enjoys the same proven growth platform, systems and structures that has seen Boost Juice open over 420 stores in 13 countries.
For further information, including the steps in our recruitment process and a franchising information pack, visit the following link and register your details: http://www.cibo.com.au/own-a-cibo. We look forward to kicking off your adventure with CIBO Espresso soon!
Why us
The benefits of Cibo Espresso
Marketing Support:
CIBO Espresso has an amazing in-house creative team, which means that there is rarely a need for external resources. This includes the design, digital, strategic local area marketing, social media and customer relations teams. We work with our franchise partners to deliver fun, relevant and exciting campaigns that engage with customers to ensure the business experiences continual growth and brand recognition. The MyCIBO loyalty program has over 60,000 members and continues to be a pivotal marketing and communication tool for our customers.
Length of Agreement:
The term of the initial franchise agreement is seven (7) years, with an option to renew for a further two terms of seven (7) years and commences from the execution of the franchise agreement. You can also sell your business at any time; you do not need to wait until the end of the franchise agreement term.
Training Provided:
New CIBO Espresso franchise partners are required to participate in a comprehensive four-week training course prior to operating a CIBO Espresso business. The training is delivered by our dedicated Learning and Development team and covers the key areas of operating a CIBO Espresso store including front-of-house operations and back-of-house management.
Skills:
We are looking for committed owner/ operators. At CIBO Espresso we want the very best ambassadors for our brand, who have a passion to share the simple pleasures of the Italian lifestyle - wonderful coffee and quality food. If you are an individual with drive, determination, a willingness to learn and want to own your own business, then we want to hear from you!
Featured opportunities
12 days ago
Cibo Espresso
$450,000 - $600,000
Franchise New
Do you want to be your own boss? CIBO Espresso is seeking an enthusiastic owner/ operator to bring South Australia's most authentic, Italian franchised brand to Mount Barker.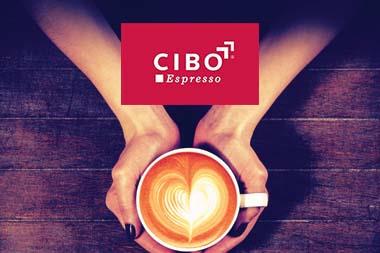 12 days ago
Cibo Espresso
P.O.A
Franchise New
Do you want to be your own boss? CIBO Espresso is seeking an enthusiastic owner/ operator to bring South Australia's most authentic, Italian franchised brand to The Co-op Shopping Centre, Nuriootpa!