Boost Juice is one of the world's most famous and loved smoothie and juice brands.
Founded by adventurer and Australian entrepreneur, Janine Allis, Boost Juice is now operating over 420 stores in 13 countries.
During a radio conference trip to the United States with her husband, Jeff Allis in 1999, the booming smoothie and juice industry caught Janine's attention. Upon her return to Melbourne, she studied the local retail sector and observed that there were very few healthy fast food choices in the Australian market. Janine started to develop a business concept that was different to anything else in the world. Her vision was to "do retailing differently" and deliver a unique customer experience based on the "love life" philosophy.
With the financial help from friends, Janine and Jeff opened their first Boost Juice store in Adelaide's King William Street in 2000. Their decision to open their first store in Adelaide was a pragmatic one; as a smaller market (like Adelaide) presented as a less financial risk. Janine continued to successfully control all operations from her kitchen table in Melbourne. She consulted with nutritionists and naturopaths to create a menu of healthy smoothies and juices that were free from preservatives and artificial flavours and colours.
The success of their first store, allowed Janine and Jeff to open additional stores in Adelaide's Topham Mall, Marion Shopping Centre and Melbourne's Chapel Street. By June 2004, (with more than 100 outlets Australia-wide), Boost Juice purchased rival chain Viva Juice. Janine's strategy was to rebrand the outlets as Boost Juice bars and sell the newly branded stores to franchise partners. This meant that during September 2004, one new Boost Juice store opened nearly every day.
In 2005, Boost Juice was voted one of the top three most admired franchises in Australia. In the same year, the business was awarded the prestigious 'American Express Franchisor of the Year' award. Another successful year for Boost Juice (2010), saw the Riverside Company become the first major investment group to buy a significant share in Retail Zoo Pty Ltd (the holding company of Boost Juice, CIBO Espresso and Salsas Fresh Mex). Janine also participated in Network Ten's Australian series of 'Undercover Boss', which was filmed at both company and franchise-owned Boost Juice stores in Perth, Sydney and Melbourne. In 2014, Bain Capital (one of the world's leading private investment firms) in partnership with Jeff and Janine, bought out the Riverside Company's share in Retail Zoo.
In December 2015, Boost Juice won three awards with the Franchise Council of Australia, in addition to Janine being inducted in to the Hall of Fame. Boost Juice was awarded 'Australia's Established Franchisor of the Year', the 'Excellence in International Franchising' and Regional Franchise Winner NT/ QLD' awards. Boost was also a national finalist in the Multi-Unit Franchisee of the Year' category.
Why us
Boost Juice is an Australian franchise success story.
Our success has been built upon our core values: health, fun and a love for life and our vision is simple – every customer will leave a Boost Juice store feeling just that little bit better.
Marketing Support:
Since its inception, Boost Juice has been a market leader with their unique radio, social media, EDM, smart-phone and media campaigns. The brand has an amazing in-house creative team (which includes design, digital, strategic local area marketing, social media and customer relations), which means there is rarely a need for external resources.
In addition to the VIBE loyalty program, Boost conducts at least 12 major national campaigns each year, e.g. the 'What's Your Name Game', 'Collectable Kid's Cups', 'Celebrity Smoothies' and 'Red Raw Range' etc. In 2014, Boost Juice launched the first retail app in Australia to be fully integrated with each store's point of sale system. Within three months, over 250,000 app downloads had been recorded. In 2016, Boost Juice was awarded 'Gold' for the best Mobile Marketing Strategy at the World App Design Awards and Best Loyalty Program by QSR Media. Boost's 'Free the Fruit' app achieved over 330,000 downloads with over 7,000,000 games played.
Boost's creative team works with franchise partners to deliver fun, relevant and exciting campaigns that engage with customers to ensure the brand experiences continual growth and recognition.
Length of the Agreement:
The term of the initial franchise agreement with Boost Juice is seven (7) years, with an option to renew for a further two terms of seven (7) years and commences from the execution of the franchise agreement. You can also sell your business at any time; you do not need to wait until the end of the franchise agreement term.
Training Provided:
New Boost Juice franchise partners are required to complete a comprehensive three-week training programme prior to operating a Boost Juice business. The training is delivered by our dedicated Learning and Development team and covers the key areas of operating a Boost Juice store including front-of-house operations and back-of-house management. After the successful completion of the training, new partners will also receive in-store settlement support for five days from the Learning and Development team when the store commences trading/ settles. Partners will also be allocated a dedicated Franchise Business Consultant who will assist with the ongoing operation of their store.
Skills:
The successful selection of quality franchise partners has played a pivotal role in the success of the Boost Juice brand. We are looking for committed owner/ operators who are dynamic and passionate about Boost Juice. Whilst previous experience in owning or operating a business would be advantageous, it is not imperative as part of the selection process. Our franchising team are looking for applicants who love our products, are determined, great communicators, and are willing to work in a fun and vibrant environment and who love life!
Featured opportunities
3 days ago
Boost Juice
$280,000 - $450,000
Franchise New
Are you hungry for success and want to be your own boss? Don't miss out on this fantastic opportunity to own your own Boost Juice store at Henry Deane Plaza, Haymarket!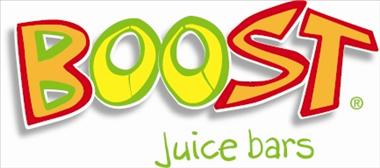 2 days ago
Boost Juice
P.O.A
Franchise Resale
Are you hungry for success and want to be your own boss? Our Boost Juice Arndale partners are looking to sell their store. Don't miss out on this fantastic opportunity to join the Boost network!