According to the Mortgage & Finance Association of Australia, the Mortgage Broking industry has grown at 10% annually since 2005. With rates the lowest they've been in over 50 years, more and more people are turning to Mortgage Brokers to help make one of the most important financial decisions of their lives.
There's never been a better time to join our industry and start a rewarding career with Aussie. For over two decades, Aussie has worked hard to build the leading brand in the mortgage broking industry and the main reason for that are our people. They are critical to Aussie's success and we want to make sure that every person considering Aussie has all of the information they need to make the right decision.
We've come a long way since 1992, starting out by selling our own home loans, moving into new products such as Aussie personal loans and in 2002 listening to what our customers wanted and becoming a mortgage broker. This has seen our sales force go from strength to strength and we are proud to say we still have people with us from those early days.
If you have the drive and determination to grow a business, you're not afraid of rolling your sleeves up and are prepared to invest time and effort into your Aussie retail store, then you're just the person we're looking for.
Why us
Aussie is the number one recognised Mortgage Broking brand in Australia. Owning an Aussie Retail Franchise places you among the industry's elite players, providing the opportunity to own and run your own Aussie branded retail store.
Our Retail model supports Franchisees to build their business through a number of areas, including:
Strength of Aussie
Since our establishment in February 1992, Aussie has grown every year since, with its finance and mortgage broking operations now spanning all mainland capital cities and major regional centres. Aussie now has a loan portfolio currently worth over $60 billion, with more than 240,000 customers being serviced seven days a week by Aussie's lending force of over 1,000 mortgage brokers across Franchise and Mobile sales teams.
Industry leading brand and ongoing company generated enquiries
The awareness of the Aussie Brand goes from strength to strength. With a consumer brand recall stronger than that of some of the Big Banks, Aussie Franchisees and Brokers benefit by having the Aussie Brand above their door and from the strength and trust the Aussie Brand carries. To help you build your business in your local area and in addition to a multi-million dollar national marketing spend which generates ongoing enquiries to you, Aussie also assists you in growing your business via a range of local area marketing initiatives, from referral programs, direct mail, events & shows, local press, to comprehensive digital marketing support.
Multiple income streams
As a Franchisee with Aussie you can reap the reward of multiple income streams, allowing you to earn money even whilst the doors are closed! Aussie also offers the opportunity to sell non-mortgage products and be rewarded through national and state sales incentives. Long term, our franchisees have the opportunity to build up their business to become a saleable asset.
Award winning training and ongoing accredited mentoring
Aussie has a deserved reputation for providing industry leading training and support. Aussie was recognised as having the Best Career Development Programme in 2015 by Australian Banking + Finance Magazine. As an industry standard, the MFAA (Mortgage & Finance Association of Australia) require all new to industry brokers to have an approved Mentor for a period of 2 years. This Mentor program can be an expensive exercise, however, Aussie runs its own internal MFAA approved Mentor Program, which is included free of charge as part of induction and training to provide Aussie Franchisees with the skills and experience to become a fully proficient Mortgage Adviser.
Support from dedicated local experts
Your business will be supported by an Aussie Franchise Business Manager who will work with you to develop and grow your business to become a successful franchisee. We also support you with a local Credit Coach, Marketing Consultant and Recruitment Manager to support all facets of your business as it grows.
Systems to support you
As an Aussie Franchisee you have full access to Aussie's IT support systems & state of the art customer facing sales tools. Aussie's industry leading software can compare thousands of products to find the right one for your customers giving you the ability to save your customers thousands of dollars and years of repayments.
Award winning team
Aussie has recently received its third accolade in a row by The Advisor as Top Brokerage. We were also awarded Mortgage Broker of the Year seven running (2008-2014) as well as the Best Advertising, Marketing and Promotional Campaign 2012 and Best Career Development Programme 2015 at the Australian Banking and Finance Magazine annual awards. In August 2014 at The Adviser Magazine's 2014 Australian Broking Awards, Aussie was awarded Best Major Brokerage of the Year - Franchise, Best Training & Education and our Parramatta Store has been named Best Office – Franchise.
Featured opportunities
18 days ago
Aussie Home Loans
$100,000 - $250,000
Franchise Resale
An existing franchise opportunity to own and run an Aussie Franchise in the Perth suburb of Midland. Financial experience not required, but a customer centric approach is a must.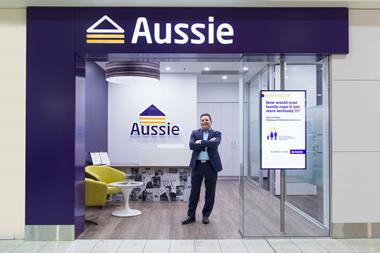 27 days ago
Aussie Home Loans
$50,000 - $200,000
Franchise New
Could you be our new Currambine Franchisee? Enquire now to learn how you can share in our success.