ANZ is one of Australia's leading banks.
In 2004, ANZ established ANZ Mobile Lending, a franchise system where each territory is owned and operated by individual business owners. Backed by one of Australia's top banks, we are committed to building lasting partnerships with our customers by offering a service proposition which our mobile lenders are proud to deliver.

Today, ANZ Mobile Lending Franchisees, together with their staff, make up a channel of approximately 450+ mobile lenders across Australia, helping customers find the right ANZ home loan for their needs.
Why us
Be a part of an award winning business and one of Australia's most recognized brands.
There are many lending franchises outside of ANZ however ANZ is the only business model that will allow someone to run their own business as an official major bank lender.
ANZ Mobile Lending provides our Franchisees and their staff;
A unique brand opportunity - Run your own business while leveraging one of Australia's most recognizable brands
Award winning competitive products - Represent ANZ-only solutions – become an expert in products under the one brand.
Healthy Franchisee culture - Belong to a strong community of supportive small business owners.
Comprehensive Franchise system support - Training and mentoring, Field coaching and support.
What are the benefits of an ANZ Mobile Lending franchise?
Our Franchise opportunity gives you the;
Independence and flexibility of small business ownership supported by the benefits of a big business.
Ability to promote yourself and your business through leveraging the strength of a well-established and highly valued brand.
A business culture built on the values of our franchisees who believe in communal success.
Access to a great variety of ANZ's multiple award-winning home loan products.
Simplicity in developing and maintaining your expertise as a home and investment lender with a range of product offerings by one bank.
What will I be paid?
ANZ Mobile Lenders are paid via a commission model that is uncapped. In addition to this, lenders can also earn commission income from complementary banking services including: personal, commercial finance and referrals to wealth.
What will my business costs be?
There are a number of costs that need to be taken into account when considering your Mobile Lending business. These will include an upfront franchise fee and an annual administration fee payable to ANZ as well as set up and operating costs.
You will also need to consider the amount of capital you will require to pay your living expenses for a period of time given you won't be earning an income immediately. This depends on an individual's personal and family circumstances.
As part of the franchise recruitment process we provide you with tools to assist you in determining how much working capital you could invest in your business and what the return could be.
Featured opportunities
17 days ago
ANZ Mobile Lending
$150,000
Franchise New
ANZ Mobile Lending is one of the fastest growing areas across ANZ. Our customer service proposition offers customers the ease and convenience of having a lender visit them "Anytime, Anywhere".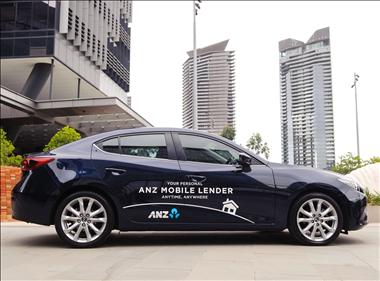 12 days ago
ANZ Mobile Lending
P.O.A
Franchise New
ANZ Mobile Lending is a national franchise business that offers you the unique opportunity to be self-employed and run your own business under the ANZ brand, focusing on home lending.