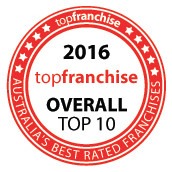 Partner with the world leader
Anytime Fitness has a perfect blend of many factors that makes it unique. The convenience and affordability of our product, for both franchise owners and members, is just one of the many features allowing our business to thrive. We offer a business model that blends perfectly with providing a great work/life balance. Anytime Fitness commenced 12 years ago in Minneapolis, USA and is now the world's largest health chain with over 3000 plus clubs open in 21 countries and growing.

A new member joins an Anytime club every 2 minutes.

Anytime Fitness was brought to Australia in 2008 by brother and sister team Justin McDonell and Jacinta McDonell and has grown from its first club opening in November 2008, to over 420 clubs open and over 500 territories sold.
Anytime Fitness Australia is the largest group of Anytime clubs open outside of the USA, and the biggest health club chain in Australia full stop. The Anytime Fitness Australia support office team, are part of an entrepreneurial company which has a very focused vision – To empower all to improve their health, wellbeing and self-esteem.

Our mission statement reflects our ambition in a unique way. To build and maintain a network of sustainable business that creates a wealth of opportunity for owners and members alike. In doing so, become the aspiration of every business in Australia.
Why us
Innovators of the 24-hour, co-ed fitness franchise.
The founders of Anytime Fitness recognised early on that the industry was ripe for innovation, they developed a trend-setting business model that allows people to work in the enjoyable and fast-growing fitness industry as an independent business owner.

We are proud to announce Anytime Fitness is ranked #1 on Entrepreneur magazine's prestigious 2015 Franchise 500 list, surpassing every other franchise in the world, including well-known franchises like Subway, McDonald's and Pizza Hut.

According to Entrepreneur, the most important factors for inclusion on its Franchise 500 list are financial strength and stability, growth rate and size of the system.

Using that formula, Anytime Fitness ranks #1!
Be your own boss and still have the freedom and flexibility to do what's important to you!

With Anytime Fitness, you can be your own boss, without having to go it alone. As a franchisee, you will use exclusive technology to operate your club, including:
Access and security systems, integrated with billing and payment processing.
Member check-in and data management tools, integrated with marketing features.
Worldwide membership reciprocity program, known as Anywhere Club Access.
With our model, you can own a health club and still have a flexible schedule. Our exclusive systems integration allows you to run a 24 hour operation without additional staff! This gives you an enormous competitive advantage, as payroll is the majority expense incurred by traditional fitness clubs. As a club owner, you can devote time to the other important areas of your life, while still allowing members full access to your facility.

We offer the convenience people are seeking in a fitness centre. Our Anywhere Club Access clearly adds to the convenience we offer our members, which is the top reason consumers choose one club over another.

It's an affordable fitness option for everyone. In contrast to the low price tag, Anytime Fitness clubs are clean and bright, with expertly designed workout areas. Inside each gym, members will find cutting-edge equipment that is safe and easy-to-use.

An exceptional member experience is at the core of our business model. Club owners are passionate about providing a high-quality member experience. We offer a welcoming and clean environment to everyone, regardless of his or her fitness level or ability. Our members can rely on a supportive atmosphere that encourages them to strive for and meet their health and fitness goals.
Featured opportunities
2 days ago
Anytime Fitness
$279,900 - $594,900
Franchise New
Join Australia's biggest fitness community Anytime Fitness. There is currently a multitude of franchise opportunities in the Brisbane area. Enquire now to find out more!
2 days ago
Anytime Fitness
$279,900 - $594,900
Franchise New
Join Australia's biggest fitness community Anytime Fitness, a tried and tested 24-hour gym model in Australia with over 450 gyms and over 450,000 members nationwide. Enquire now to find out more!