7-Eleven is the largest petrol and convenience retailer in Australia, based on market share. Our company is privately owned by the Withers and Barlow families, who have a license to operate and franchise 7-Eleven stores in Australia from the US based 7-Eleven Inc.
We opened our first Australian store in August 1977. Today the 7-Eleven brand can be seen across more than 600 stores in Victoria, New South Wales, the Australian Capital Territory, Queensland and most recently, in Western Australia.

Customers love the 7-Eleven brand for our famous range of proprietary and exclusive products, including Slurpee, Krispy Kreme, $1 coffee and Mobil fuels. Additionally we offer a great range of convenience products and services such as a fresh food on the go range, Commonwealth Bank/Bankwest ATM's, Moneygram money transfer, gift cards and transport tickets, all available 24/7.

Through our 600+ store network, we conduct more than 180 million customer transactions a year, serving an average of six customers per second, all of which generates sales of approximately $3.6 billion.
Why us
At 7-Eleven, we take a different approach to franchising than many others.
Our franchising model takes care of many of the things that are a hassle about being a small business owner. Things such as finding your site, fitting out your store, setting up business systems and processes, sourcing and negotiating your product range, and promoting your business.

A turnkey business
We provide you with a fully operational store from day one, without any of the hassles of finding a location, organising the shop fit or merchandising the store. And 7-Eleven takes care of the cost of the rent, the fit out and maintaining all the equipment.

Business systems
We have many systems in place to help with the day to day running of your business, including a POS system, a portal to access sales and business information, product ordering system and many more.

Dedicated support
We provides all Franchisees with a District Manager, a skilled retail professional, who visits each store fortnightly. They'll work with you on your agreed business plan, share information, resolve issues and look for further opportunities to grow your business.
And because we operate 24/7, we have a Support Centre who provide telephone assistance around the clock, should you have any issue you need help with.
Product and Marketing support
To ensure 7-Eleven meets the ever changing needs of our customers, you'll have the full support of our Marketing team, who will source and negotiate product ranges on your behalf, and create exciting and enticing promotions and advertising to keep customers coming to your store.

Profit share model
And to ensure that as business partners, we're both focused on the same thing, we tie our financial success to yours. 7-Eleven operates a gross profit share model, so it's in our interests to ensure that you're making profit, because if you're not, then neither are we.
Our Franchisees average profitability has increased by 8% on average each year for the last 3 years. We're really pleased that working with our Franchisees, last year we helped them take home an average nett profit of $150,000* from a store.

*This is an indication of average performance in FY 2014, and is not a guarantee of income in future years.
We take care of all of these things, and many more, so that you can get on with the job of leading your team to create a great experience for customer's by presenting a fabulous looking store and providing great service.
Featured opportunities
15 days ago
7-Eleven Stores Pty Ltd
$1,021,910
Franchise Resale
This 7-Eleven franchise is high profile and delivers a full convenience offer including Fuel, Grocery, Drinks, Snacks, Fresh Food and Slurpee.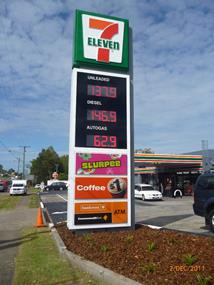 15 days ago
7-Eleven Stores Pty Ltd
$256,000
Franchise Resale
This Store is ideally located on Noosa Drive and delivers a full convenience offer including Grocery, Drinks, Snacks, Fresh Food and Slurpee.